On a small patch of dusty land on the west side of the University of Arizona campus, class is in session. Students gather around instructor Hazel Cox, who is inspecting a diagram.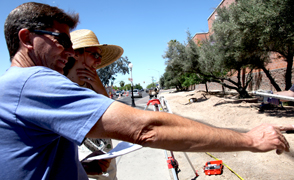 (PHOTO: Mark Duggan)
She gives the students their assignments, and they pull on gloves and reach for shovels.
This is the "field work" component of Cox's course in rainwater harvesting. She's an adjunct lecturer at the UA's Department of Soil, Water and Environmental Science.
Her students spend about two-thirds of the course in a classroom, studying the principals of water flow and how to capture it. The rest of the class time involves actually building a rainwater harvesting system.
The system they're building this semester was actually designed by students who took the course in 2009.
If it works as planned, the system will divert rainwater from drain spouts on the Art Building into a series of trenches and, eventually, to trees and plants.
Up to 80,000 gallons of water could be diverted each year for irrigation, water that would have just flowed into the street, to sewers and rivers.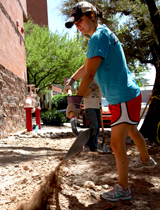 (PHOTO: Mark Duggan)
Today, the channels are beginning to take shape. Cox has a background in gardening, so she seems comfortable wielding a power shovel, even a pickax, to coax a trench into hardened ground.
Not so with all of her students. Cox says some have never used a shovel before. But even they seem to take to the earthwork with enthusiasm.
Cox says she hopes her students will develop an interest in rainwater harvesting beyond the classroom, even if they are taking her course as an elective. She got interested in rainwater harvesting herself because of a class she took as a student at the UA.
At the rainwater harvest site, trenches are beginning to take shape. The students pause around a leveling instrument. As with any earthworks project, it's necessary to survey the site.
But the ultimate test of the rainwater diversion system, says Cox, comes only with the first rain.
After the trenches and berms are formed, the students will line the rainwater catch basins with rock, to prevent erosion. Then, facilities workers from the UA will add more landscaping, which will be fed from the rainwater harvest system.
Most of the students who dug the initial trenches won't be around to see it completed. With the semester coming to an end, a future group of students will finish the project. Cox concedes that some may not think much about rainwater harvesting and digging a trench after taking her class.
But, like her, some will.
Maybe one the students looking uncomfortable with a shovel today will be teaching her class in a decade.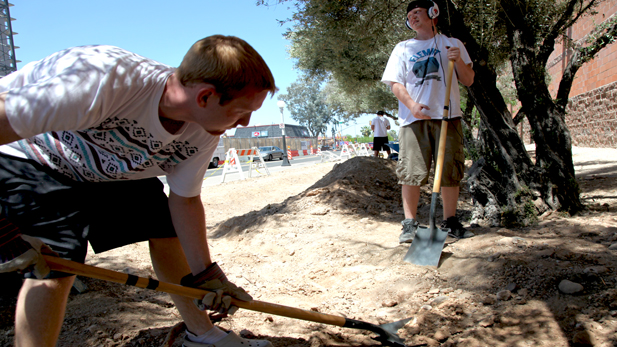 (PHOTO: Mark Duggan)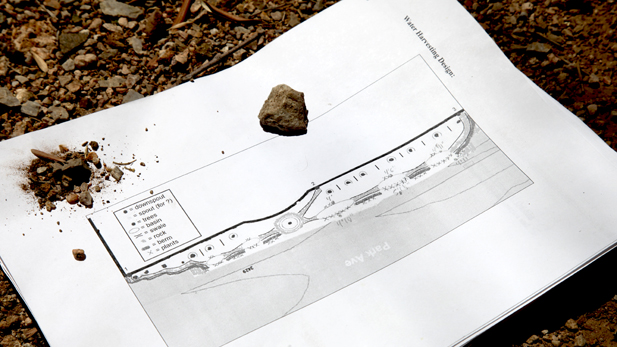 (PHOTO: Mark Duggan)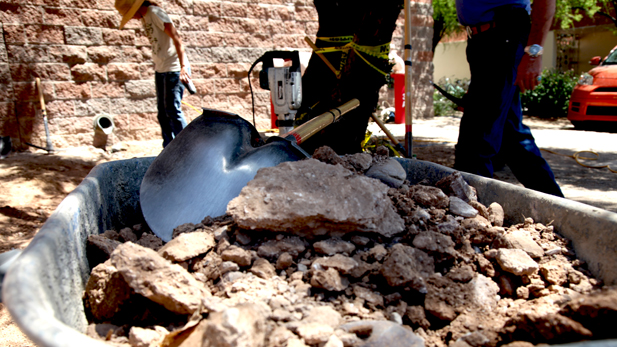 (PHOTO: Mark Duggan)