By Britain Eakin, AZ Week Reporter Intern
Americans who wonder at the precarious nature of democratic free expression in the Middle East should try understanding the process and Muslim beliefs, two University of Arizona professor say.
Middle Eastern protests over Western portrayals of Islam and the brief detention of an Egyptian comedian who satirized the country's president may have left Americans questioning the commitment to democracy arising from what has been called the Arab spring.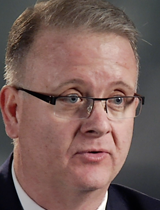 PHOTO: AZPM
Kevin kemper, professor of journalism, University of Arizona.
Understanding the evolution of democracy is important, said Kevin Kemper, a professor in the UA School of Journalism.
"Egypt has obviously gone through a lot of changes in the last few years," Kemper said in an Arizona Week interview. "And Egyptians are making decisions of their own, democratic decisions, in fact, of 'what kind of laws should we have, what should influence who we are and what we do.'
"As they're going through that, there is a strong Muslim influence in Egypt, and there are people who would like to apply some if not all those concepts to what the Egyptian government does."
Another UA professor, Faten Ghosn of the School of Government & Public Policy and a Middle Eastern expert, agreed there are signs of democratic principles emerging in Egypt and elsewhere in the region.
"What's happening is very normal," Ghosn said, also in an Arizona Week interview. "If you think back on Latin America, the transitions known as the third wave that we talk about in Latin America. What's happening in the Middle East is not unusual with what we see elsewhere."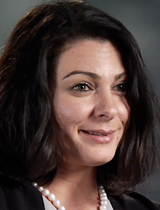 PHOTO: AZPM
Faten Ghosn, professor of government and public policy, University of Arizona.
Ghosn said she thought it was a good sign that the process has worked in Egyptian elections, in which even when the opposition parties lost, they abided by the outcomes. She also pointed to the case of Egyptian comedian Bassem Youssef, saying that while he was detained for satirizing President Mohamed Morsi, public pressure brought about his release after just a short time.
"They did take him for questioning - I don't know if it was five hours or a little bit more - but they did release him on bail," Ghosn said. "In the past, even under (former Egyptian president Hosni) Mubarak, whether you would be released ... that was not even an option."
Ghosn also said it is important for Americans to realize that in Islam, the showing of the Prophet Muhammad's visage is a sacrelige, and thus the reaction of believers to Western satire of Muhammad can be strong. She said it is the same for other prophetic figures in Islam, including Jesus.
"In Lebanon, during Christmas, one of the Shiite (TV) channels presents a series about Jesus," she said. "Even in that series about Jesus, they discuss him, because they believe in him. He's a prophet, with a very important role, (but) they never show his face. It's always a white light. So it's not like they're treating the Prophet Muhammad different from the Prophet Jesus."
"There's a whole respect for religious individuals that's not like it is in the West."
Britain Eakin is a reporter intern for Arizona Public Media and a graduate student at the University of Arizona, working toward dual master's degrees in journalism and Middle Eastern studies.