Broadcasts from the Lyric Opera of Chicago continue on Classical 90.5 at noon this Saturday, June 8th, with a double bill starting with a performance of Elektra by Richard Strauss. The libretto is by Hugo von Hofmannsthal. The opera will be sung in German and will run approximately two hours. Sir Andrew Davis conducts.

Strauss's monumental Elektra is a 100-minute opera is based on the ancient Greek tragedy by Sophocles and is performed without intermission. It is one of the most formidably difficult operas for orchestra as well as for vocal soloists. The heroine, princess of Mycenae, is consumed by the desire to avenge the death of her father, King Agamemnon, at the hands of her mother, Clytemnestra and Clytemnestra's lover Aegisthus. She vainly attempts to enlist the aid of her frightened sister, Chrysothemis, and is ecstatic at the unexpected return of the brother she believed was dead, Orestes, which leads to the hair-raising dénouement.

THE CAST
Elektra:Christine Goerke
Chrysothemis: Emily Magee
Clytemnestra: Jill Grove
Orestes: Alan Held
Aegisthus: Roger Honeywell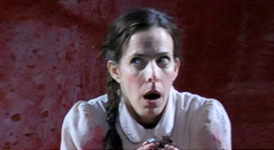 Engelbert Humperdinck's Hansel & Gretel

The second offering during the June 8th broadcast is a performance of Hansel & Gretel by Engelbert Humperdinck, with a German libretto written by Adelheid Wette, Humperdinck's sister, based on the Grimm brothers' fairy tale "Hansel and Gretel." The performance will run approximately two hours and twenty minutes. Ward Stare conducts.

This deliciously enthralling opera has won accolades on two continents, and the lushly romantic score is beloved by all. But for those who think all fairy tales are sugarcoated, remember that the Brothers Grimm usually lived up to their name. Food and the lack of it propel the story of two children who dream not of toys but of having enough to eat. When the family cupboard's bare, their mother sends them into the very dark forest to find the evening meal. Encounters with the Sandman and the Dew Fairy turn out to be lovely—but meeting the Witch is anything but. Like some deranged Julia Child, she's got a very sinister reason for wanting to add more butter to fatten up these children.

THE CAST
Hansel: Elizabeth DeShong
Gretel: Maria Kanyova
Witch: Jill Grove
Mother: Julie Makerov
Father: Brian Mulligan