Gabrielle Giffords received the 2013 Profile in Courage award at the John F. Kennedy Library on Sunday.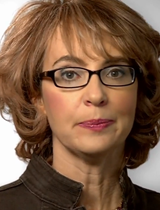 Gabrielle Giffords.
Giffords, the former Arizona congresswoman, was shot through the head Jan. 8, 2011 when a gunman opened fire as she met with constituents in a Tucson shopping center.
Giffords and her husband, former astronaut Mark Kelly, have been lobbying Congress for more gun control legislation, and the honor she received Sunday was in recognition of that.
"I believe we all have courage inside," Giffords said in accepting the award. "I just wish there was more courage in Congress."
This year, on the second anniversary of the January shooting, the couple started Americans for Responsible Gun Ownership, an organization that "supports the right to bear arms and responsible public policy on guns and gun ownership."
Caroline Kennedy, president of the John F. Kennedy Library Foundation, presented the award to Giffords.
Kennedy took a moment to salute the first responders and the citizens of Boston. Referring to the Boston Marathon bombings last month, Kennedy said, "All Americans have been inspired by the countless acts of selfless bravery and compassion we saw during the violence that struck this city on Patriots Day."
In presenting the award to the former Arizona Congresswoman, Kennedy said, "Gabby Giffords has turned a personal nightmare into a movement for political change."