Listen:
Former state lawmaker Matt Heinz has accepted a job in the U.S. Department of Health and Human Services.
Heinz said he was appointed by President Barack Obama and will start in about a month.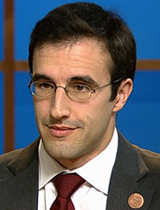 PHOTO: AZPM
Matt Heinz.
He will work on getting patients enrolled in insurance programs, known as exchanges, developed for people who don't have employer-offered health insurance, Heinz said. Enrollment in the exchanges is required in the Affordable Care Act.
The job will entail educating doctors, as well, he said. His formal title will be director of provider outreach in the office of intergovernmental and external affairs in the Department of Health and Human Services.
"The position is one that will involve engaging with the health provider community as we move forward with implementing the health reform law to help get patients and providers enrolled as quickly as possible," Heinz said.
Heinz served in the Arizona House of Representatives from 2009 through 2012 and ran for Congress last year in the Democratic primary.
He is also an internist at Tucson Medical Center and said he will continue to work a few shifts a month at the hospital, although his primary duties will take him to Washington, D.C., most of the time.
It will benefit him to remain a physician as he takes on the duty of provider outreach, he said.