AZPM
When Congress passed the farm bill extension at the end of 2012, 37 federal programs were eliminated, including conservation, organic research and disaster assistance programs that Arizona ranchers have used.
Ranchers in the state are no strangers to drought and have dealt with long-term changes on the range with and without federal help.
While driving through his ranch in Cochise County in his pickup truck, Jim Riggs can identify each type of grass as far as the eye can see.
"See that tiny green short stuff? That's native grasses and they've been plucking the heck out of it," Riggs says, referring to his Polled Hereford cows.
Listen:
Next he points out a dry, dirt ditch that once naturally held water for cows. Riggs says it hasn't filled since 1993.
"It just won't hold water. This was our dependent water supply it just wasn't that dependable," Riggs says.
He owns Crossed J Ranch with his wife. After the Civil War, his great-grandfather moved to the land south of Willcox. Riggs is the fourth generation to work the ranch.
His cows survive on native rangeland, he says. There are no feed troughs in sight. Riggs relies on the sun and the rain to grow the grass that feeds his red-coated, hornless herd.
Riggs learned to ranch from his father and then attended Northern Arizona University and received a bachelor's degree in range management.
He has seen fire destroy rangeland and cows killed by mountain lions, but drought has disrupted his ranch and prompted changes in the way he raises cows more than anything else.
"We were supposed to always keep three years of grass and three years of money at all times," Riggs says. "Well, when the drought gets so severe, these things go away."
In 2003, Riggs sold 80 percent of his herd, leaving him with 20 mother cows. He also took on a second job and applied for financial aid from the U.S. Department of Agriculture.
"It helped me keep my cows, but more importantly it helped me keep my business," Riggs says. "We've always felt it was a tool to be used, but you don't rely on it until the money is in the bank."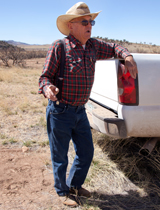 Jim Riggs, owner of Crossed J Ranch in Willcox, Arizona

Mariana Dale, AZPM
Riggs has also used conservation programs to help build fences and remove brush on his property, he says.
Ranchers in Arizona can apply for drought aid and other programs through local Department of Agriculture Farm Service offices. But the federal farm bill creates and funds all government programs related to food and agriculture.
The last uch bill expired in 2012 and Congress didn't pass a new version before the end of the year. Instead, it extended the former bill, but did not include funding for dozens of programs, such as relief programs in Arizona that help ranchers coping with drought.
"At this point we've been instructed to tell them that there are no funding for these," says Dianna Kazee, a state agricultural program specialist. "We can tell them about other programs that they may or may not be interested in, but that's about all we can do at this point."
The Livestock Forage Disaster Program, which provided direct payments to aid ranchers who could not feed their animals on pasture because of damage from drought or fire, has been eliminated.
"It's really meant to keep farmers and ranchers in business so that if we have an extreme condition, whether that's with farming or ranching, those ranches and farms stay sustainable," says Stefanie Smallhouse, a vice president of the Arizona Farm Bureau, a non-government organization for ranchers and farmers.
"You really don't want all these farms and ranches going out of business when you're talking about your food supply," she says.
Before the program was defunded, its use was on the rise. In 2010, the Farm Service Agency paid more than $2 million to Arizona ranchers, according to a report from the agency.
In 2011, the amount increased to almost $5.5 million. In the Southern Arizona counties of Pima, Santa Cruz and Cochise, 79 people received $1.1 million that year.
If ranchers do have to sell animals to make ends meet, they might get less for their beef because so many others are liquidating their herds, Smallhouse says.
"There are a lot of things that are absolutely out of our control and affect our ability to stay in business," she says. "But that's just the chance that you take when you start this business."

Even with payments, ranchers generally don't buy new animals to replace those lost. Riggs has built his herd back up to 80 mother cows by holding back heifers from sale. This way he can preserve carefully cultivated genetics.
"Keeping a good gene pool is something that we're proud of and that's what we market," Riggs says. "We can't out produce them in numbers because you only have so much dry grass."
The Livestock Forage Disaster program is not the only aid available. Ranchers can apply for other drought assistance programs such as the Emergency Loan Program. These loans that must be paid back and only ranchers with insurance who live in a disaster area designated by the USDA can apply. Riggs says when he really needed the loans Cochise County didn't qualify as a disaster area.
"I have to run my ranch as though the government doesn't even exist," Riggs says. "As programs come and I can use them for my benefit I do."
This year, all Arizona ranchers can apply for the Emergency Loan Program because of the state's ongoing drought. But as of April 30, there were no applications, according to the state Department of Agriculture.
Congress is expected to write a new proposal before the farm bill extension expires Sept. 30. The House has begun holding public hearings to discuss priorities for the new bill.
Riggs has no plans to get an emergency loan, he says, adding that he would like to see fewer government programs and more community support.
"I think that the tragedies can happen, but around here if a guy's barn burns down, all the neighbors show up and build him a new barn," Riggs says. "That's what we do, that's what it's always been."