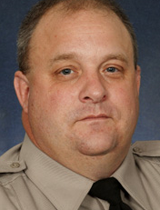 PHOTO: AZ DPS
DPS Officer Tim Huffman.
The Arizona Department of Public Safety officer killed in an accident on Interstate 8 late Monday has been identified as 47-year-old Tim Huffman.
DPS spokesman Bart Graves says Huffman was a DPS officer for 14 years, working the entire time in the Yuma district.
Huffman was killed the same day as fellow DPS officers and Gov. Jan Brewer attended memorials for officers killed in Arizona.
Huffman was killed when a tanker truck slammed into several vehicles at an accident scene near Wellton in southwestern Arizona.
Graves says it's not clear why the tanker's driver didn't respond to patrol cars' flashing lights and a DPS officer waving to signal that a lane was closed.
Graves said it's not yet known whether the driver will face any charges.