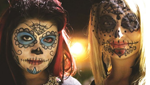 PHOTO: Veronica Zaragovia, Fronteras Desk
By Mónica Ortiz Uribe and John Rosman, Fronteras Desk
Disney Enterprises Inc., a subsidiary of the Walt Disney Company, has filed trademark applications to secure the phrase "Dia de los Muertos" across multiple platforms for an upcoming Pixar film.
Dia de Los Muertos is a popular holiday celebrated across Latin America, especially in Mexico and Central America, and it has become increasingly popular in the United States.
"Dia de los Muertos" translated from Spanish is "Day of the Dead." Families commemorate the lives of lost family members or friends between Oct. 31 and Nov. 2 each year, a tradition that dates back to the Aztecs before the arrival of Europeans in the New World.
Disney filed 10 requests in the U.S. Trademark and Patent Office this month to coin the phrase. Disney's filings are mainly for merchandise, presumably connected to an upcoming film.
The areas it is asking to secure include "education and entertainment services," "fruit preserves; fruit-based snack foods," "toys, games and playthings," "clothing," "footwear," "backpacks," "clocks and jewelry" and more.
Rod Berman, a patent lawyer in California, says Disney is filing to protect products, not steal a holiday.
"Even if Disney were to obtain trademark registration, that wouldn't prevent anyone from practicing their faith or having the holiday," Berman said.
In the past, Disney sought to trademark "SEAL Team Six" the Navy SEAL team that assassinated Osama Bin Laden. It wanted exclusive rights ranging from toys to snow globes. After outcry from critics, The Wall Street Journal reported that Disney withdrew the application "out of deference to the Navy."
Reaction on social media to news of the "Dia de los Muertos" trademark application included accusations that Disney is trying to profit from a sacred Mexican tradition. Disney has not responded.
A Houston company listed as The Valence Group already holds a 2007 trademark for "Día de los Muertos" for entertainment services such as theater, plays and musicals. A gaming company in Nevada holds a 2012 trademark for "Día de Muertos."
The Trademark and Patent Office has issued trademarks related to others holidays such as Christmas and Hanukkah.
Fronteras Desk is a collaborative of public broadcasting entities in Arizona, California, Nevada, New Mexico and Texas, including Arizona Public Media.