It was a sunny afternoon at the University of Arizona Recreation Center pool. On one side, students relaxed and took advantage of a warm spring.
On the other side, a group played a game of inner-tube water polo as part of a fund-raiser for the charity Swim With Mike.
Joe Kay organized the event to help a charity that is very close to his heart.
Joe Kay in the water polo match (PHOTO: Zac Ziegler)
"I had a volleyball scholarship, but that only covered half of my tuition," Kay said. "I still had half of a scholarship to cover, and Swim With Mike definitely helped me pay that second half."
Swim With Mike provides scholarships to disabled athletes.
You wouldn't think that Kay would have qualified for a Swim With Mike scholarship when he was a Stanford student starting in 2005.
It's been over nine years since the incident that temporarily paralyzed the right half of his body, and he has largely recovered.
On February 6th, 2004, Kay's Tucson High basketball team beat perennial power Salpointe Catholic.

Kay's breakaway dunk was icing on the cake for the Badgers, and students rushed the court in the post-game excitement.
"A bunch of kids tackled me," Kay said. "And I had a stroke right out there in the middle of the court."
The story made national news.
Kay, who was also his class' valedictorian, had a partial scholarship to Stanford for volleyball.
The school honored the scholarship, but Kay still had to raise the other half of the tuition.
That's when Swim With Mike, as it has done for many disabled athletes, helped cover the rest.
After a year of rehabilitation from the stroke, Kay left for Stanford. He recalled how he heard about the charity.
"When I was rehabbing, I got in contact with a person from Swim With Mike. He had gone to Stanford, but now lived in L.A. and was involved with the Swim with Mike organization. He told me to apply, so I applied, and they gave me the scholarship. "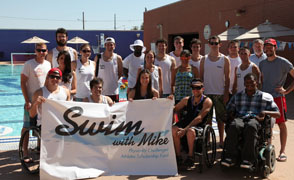 Participants at the Float With Joe event (PHOTO: Zac Ziegler)
The charity started in 1981 to help former University of California swimmer Mike Nyeholt.
Nyeholt was paralyzed earlier that year in a motorcycle accident, so the USC swim team held a swim-a-thon in order to raise money for a specially equipped van.
The team raised more than enough money for the van. Nyeholt asked that the excess funds be given to physically challenged athletes at USC.
The charity now gives scholarships to students at universities nationwide.
Kay was one of the first recipients to attend a school other than USC.
He earned a Bachelor's degree in American Studies during his four years at Stanford.
After graduation, he spent the next 18 months traveling the country in a customized van.
By the time he was done, he could say he'd traveled to all 50 states.
"It was really enlightening, and an excellent experience for someone who studied American Studies in college but never got the chance to go out and see what the true America is like," said Kay. "I'd read about it in textbooks and seen it in movies, but that trip was really enlightening."
Joe came back to Tucson to get his Master's degree in social work from Arizona State University.
He is nearing completion of his degree, and is taking some time to pay back the charity that helped get him through Stanford.
That is why Kay put on the Tucson event, called Float With Joe, to raise money for Swim With Mike.
Some of their scholarship recipients are there to help him.
"Swim With Mike has helped me actualize my dreams, as cliché as that sounds," said Dana Methewson, a scholarship recipient studying Speech and Hearing Sciences. "I know I wouldn't have been able to attend a school like this without their help."
Mathewson is a member of the University of Arizona's wheelchair tennis team. She is not the only team member on a Swim With Mike scholarship.
Matt Farmen is also a wheelchair tennis player. He's finishing his Master's degree in Civil Engineering with help from Swim with Mike.
"Organizations like this really make it happen. I've gotten some scholarships from the University of Arizona and some other smaller ones, but this is the big one that allows you to really come and do these things."
Kay's involvement with Swim With Mike gave him more than just scholarship money.

It gave him a sense of community and people he could relate to.
"Right after my accident, I didn't want to be associated as someone who'd been injured," Kay said. "But pretty soon I realized that you have to accept everything that happens in your life, and it's a part of you."
Kay looks to have fully recovered.

He is not cognitively impaired, and has only minor impairments to his right limbs.
"My leg and my arm, and really my entire right side is still slow, I like to term it. But I still have some aphasia."
He has probably recovered all of the ability that he can, but he believes recovery from such an event is life-long.
"Basically, I'm still 'recovering', in quotation marks, but it's not in the normal sense like you would think of. It's learning to navigate the world in a kind of different way than I would normally."
Kay says some opportunities have gone away, some are reopening, and some he never knew about are showing themselves.
"There were a lot of avenues I couldn't go anymore. I couldn't play volleyball, I couldn't play basketball, I couldn't play saxophone. Although I'm getting a new saxophone in the next few months made just for my left hand. A whole new stream of avenues has opened up, and Swim With Mike is one of them."