Raul M. Grijalva Elementary School will soon name its multi-purpose field after a former student who was killed in the war in Afghanistan.
Army Specialist Christopher J. Moon was 20 when he died from wounds suffered after an attack in Arghandab, Afghanistan, in 2010, according to military records.
Moon was a student at Grijalva and graduated from Tucson High Magnet School in 2007.
"He was very courteous, very respectful, that's who Chris was," said his mother, Marsha Moon. "He loved life, and he loved high school."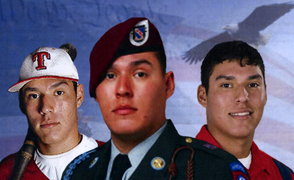 PHOTO: Courtesy of the Moon family
Three photographs of Christopher Moon on a document provided by the family.
Tucson Unified School District's governing board unanimously approved the proposal to permanently honor Moon at Grijalva Elementary, 1795 W. Drexel Road.
The Midvale Park Neighborhood Association requested the dedication after collecting 148 signatures. The school's principal, Charles Bermudez, supported the idea.
Naming fields in schools after fallen soldier would be "a great tradition in a smaller scale. I think it's fairly easy to do and it tells a story for young kids," said Brian Moon, Christopher's father.
"Unfortunately these days there is a lot of people who have lost their lives in a war situation, so I think it leaves a legacy for people who were young and didn't get to experience the rest of their lives," he said.