Federal legislation introduced by Rep. Raul Grijalva, D-Ariz., would expand the sizes of both units of the Saguaro National Park on the east and west sides of Tucson.
The bill, known as the Saguaro National Park Boundary Expansion and Study Act, adds 2,525 acres to the east side Rincon and west side Tucson Mountain units of the park.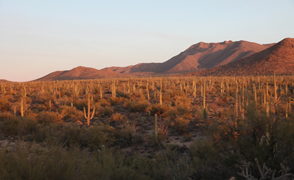 PHOTO: Mark Duggan
A cactus forest at the Tucson Mountain Unit of Saguaro National Park
Similar bills have been introduced in Congress before, but none have been successful.
Kevin Dahl, Arizona program manager for the National Parks Conservation Association, which supports the legislation, said the parcels that would be added to Saguaro have what he calls "fantastic park qualities."
They include riparian habitat along Rincon Creek and wildlife corridors between the west unit and the Sweetwater Preserve, which would allow allow wildlife access to the Santa Cruz River.
The bill would allow the National Park Service to acquire private land through purchase, trade or donation. Grijalva said all owners of private land that would be included in the expansion support the bill.
Money to buy private property would come from the the Land and Water Conservation Fund, which collects fees from offshore drilling for land conservation.