Whether they're training for marathons, exercising their way through cancer recovery, or changing their eating habits, people who take charge of their health make changes to their bodies that may affect their well-being long-term - and even across generations.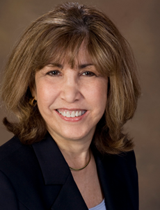 PHOTO: University of Arizona Medical Center
Patricia Settle, clinical nutritionist, University of Arizona Medical Center.
A new approach to thinking about health and health outcomes, called "life course medicine" or life course theory, is helping researchers understand these changes.
Life course theory folds genetics, environmental factors, socioeconomic status and even individual life events and behaviors into a complete, complex picture of a person's lifelong health, says Patricia Settle, a clinical nutritionist in the University of Arizona Pediatric Pulmonary Center.
Settle helps train health care professionals in this emerging field. She uses examples and even a board game to illustrate the difference that even a single decision or isolated event can make in a person's lifelong health.
"Say you have two little girls from very similar backgrounds," Settle says, "and one of them is in an accident" that leaves her traumatized and scarred. That incident, regardless of the girl's genetic makeup and predisposition to disease, could lead to dropping out of school, abusing drugs or adopting a number of other behaviors that raise her risk of poor health or early death, Settle explains.
"Health is a continuum--it's not just isolated events in time," Settle says.