Arizona Senate leaders took the state budget process public Tuesday, introducing a series of bills that are meant to define state spending in the next fiscal year.
The bills' introduction breaks a stalled process and opens the way for full debate of Gov. Jan Brewer's proposal to expand Medicaid to provide health insurance for 300,000 more poor Arizonans.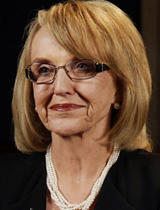 Gov. Jan Brewer (PHOTO: AZPM)
The budget proposal, at $8.798 billion, does not include the governor's Medicaid expansion. Instead, the proposal calls on the state to ask the federal government for a waiver so it can continue a freeze on health insurance for childless adults.
If the waiver is rejected - and the federal government has already told the state in principle that it won't be extended - the Senate proposal calls for adding $135 million in state money to the Medicaid program.
The $135 million would go to continue covering an estimated 63,000 childless adults who got in before the enrollment freeze two years ago.
In effect, the Senate budget would lead Arizona to opt out of the Medicaid expansion, which is part of the Affordable Care Act.
The Associated Press on Tuesday quoted Senate President Andy Biggs, a Republican and opponent of the Medicaid expansion, as saying the Appropriations Committee will hear the budget bills Wednesday and they should reach the Senate floor Thursday.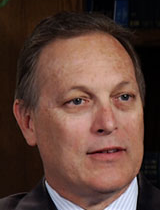 Andy Biggs, R-Gilbert, Arizona Senate president. (PHOTO: AZPM)
Biggs said he expects a battle as Democrats and a handful of Republicans try to add Medicaid expansion. Biggs and fellow conservative Republicans oppose the plan.
Senate approval would send the budget to the House, where Medicaid expansion remains uncertain. There, House Speaker Andy Tobin has been working to put together an alternative to Brewer's plan, but he has yet to reveal the details.
The budget proposal being pushed by Republicans in the Senate is roughly $100 million short of what Brewer has asked for. It is 1.6 percent higher than this year's general fund spending level of $8.65 billion. Included in the Senate plan:
An increase of $111.6 million for K-12 education. That includes $82 million as a basic increase, $22 million for upgraded technology to track performance, $2.4 million toward performance-based funding and $3.6 million for school safety.

A reduction of $4.5 million in funding for new prison space, and an additional $8.3 million for the corrections officers retirement fund.

Nearly $26 million more for Child Protective Services. That would be on top of a $4.4 million emergency appropriation the Legislature made in January to hire more caseworkers.

A $14 million increase in public universities funding, including $10 million to Arizona State University and Northern Arizona University to bring them up to the same per-student funding levels as the University of Arizona. Another $4 million would go to the UA medical school campus in Phoenix.

A $324.5 million carryover to the next fiscal year. Legislative leaders have rejected calling it a surplus, saying it is needed to cover expected revenue shortages in coming years. The three-year projection in the Senate GOP budget proposal shows a deficit of $150 million in the 2015-16 fiscal year.