Arizona House Speaker Andy Tobin is proposing a special election this fall to ask voters if the state should expand Medicaid coverage.
That idea came as Senate President Andy Biggs, an unwavering opponent of Medicaid expansion, on Tuesday introduced a state budget proposal that would exclude the expansion but take on state maintenance of the current Medicaid system.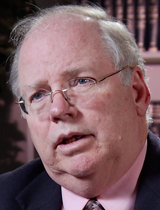 AZ House Speaker Andy Tobin, R-Paulden.
The two proposals broke a lengthy impasse between the Legislature and Gov. Jan Brewer on the Medicaid issue. Brewer called in January for the expansion, saying it could bring billions in federal dollars to the state and give insurance coverage to 300,000 more poor people.
Brewer's fellow Republicans immediately said they opposed it, although several have since expressed support, including enough in the Senate to combine with full Democratic support for a majority.
Tobin's office released draft copies of two measures he will introduce to allow Medicaid expansion. The first is his proposal to call a special election this fall for a constitutional amendment that would allow voters to decide on Medicaid expansion. The second is enabling legislation that would govern how the program works, including eligibility and a fee to be assessed on hospitals.
The proposal has several fiscal safeguards in it, including a Jan. 1, 2018 expiration of the expansion and a provision that would keep hospitals from passing along to patients the fees hospitals must pay as part of the program.
Tobin told the Arizona Capitol Times that taking it to the voters is the best option because he does not think it can pass the Legislature with two-thirds majorities in both chambers. Tobin said he thinks two-thirds is required because the proposal includes a fee that would be treated as a tax increase.
Brewer has said she prefers the Legislature approve the expansion, but her spokesman has said she won't take a ballot measure off the table.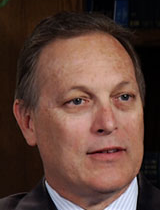 Andy Biggs, R-Gilbert, Arizona Senate president.
Biggs' budget proposal calls on the state to ask the federal government for a waiver to allow Arizona to continue a freeze on new Medicaid enrollments for childless adults. Currently, the program covers 63,000 such adults and without the waiver, the federal government won't cover them.
Under Biggs' budget, if the waiver is not approved, the Legislature would appropriate $135 million in the next fiscal year to cover the 63,000 childless adults. Hundreds of thousands of others who are now not covered would remain in that status.
The budget plan was scheduled for a hearing Wednesday in the Senate Appropriations Committee, where approval would send it to the Senate floor for debate Thursday.
There, an amendment to add Medicaid expansion to the budget is expected to be introduced.
A spokesman for Biggs said Wednesday that he believes the Senate floor session Thursday will be protracted, perhaps going past midnight. In the past, that has not been unusual when the Legislature is working to pass the budget.