A U.S. district judge has ruled that Arizona Gov. Jan Brewer can legally prohibit people from getting drivers licenses if they have been granted deferred deportation status by the federal government.
The ruling Thursday from U.S. District Judge David G. Campbell said federal law does not preempt Arizona from making that decision.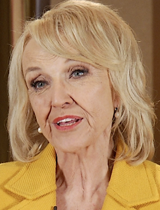 PHOTO: AZPM
Gov. Jan Brewer.
Last summer, President Barack Obama issued an executive order temporarily preventing young people from being deported if they are in the United States illegally, and allowing them to qualify for work permits.
Shortly after Obama issued the order, Brewer issued her own order barring the state Motor Vehicles Division from issuing drivers licenses to people granted the status.
Campbell wrote in his 40-page ruling that "the evidence does not show the 'extreme or very serious damage' required" for him to halt Brewer's order from taking effect.
In a statement, Brewer said she was pleased with the decision that federal law does not supersede state law in this case.
"This portion of the ruling is not only a victory for the state of Arizona – it is a victory for states' rights, the rule of law and the bedrock principles that guide our nation's legislative process and the division of power between the federal government and states," Brewer said in a statement.
The National Immigration Law Center said in a statement that the ruling is an example of the need for federal immigration reform.
In that news release, the director of the American Civil Liberties Union of Arizona said the ruling is not the end of the issue.
"We will continue to pursue this important fight until all DREAMers are treated with dignity and respect," said Alessandra Soler, executive director of the ACLU of Arizona, in the news release.
The word "dreamers" is a reference to people who came to the country as children and who are not in the United States legally. The definition mirrors the group who can qualify for deferred deportation, although it comes from a federal bill to give that group of immigrants permanent legal status.
The DREAM Act has failed in the House and the Senate, but the acronym is commonly used to refer to young immigrants who are not in the country legally.
Read the U.S. District Court DACA License Order: View at Google Docs | Download File