The Pima Community College Governing Board will offer Lee Lambert the job as chancellor.
Lambert is president of Shoreline Community College in Washington state. If he accepts the position, he will begin at PCC July 1.
Lambert was one of four candidates the college brought to Tucson for community forums during its search for a new leader.
Six people associated with Pima Community College traveled to Lambert's college this week in what Pima calls a "fact finding visit."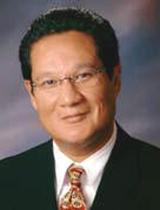 PHOTO: Shoreline Community College
Lee Lambert
At Friday's governing board meeting, they said they were impressed by his work. He took over and turned around a "turbulent environment" left by Shoreline's previous leadership, said Tara Benson, PCC's registrar.
Norm Rebenstorf, a PCC Foundation board member, also traveled to Shoreline.
"I really believe he has the ability to work within the college community and within the greater community in order to restore the reputation of the college and to make it, again, and institution that we are all not only proud of but that we are part of," Rebenstorf said at today's governing board meeting.
"My opinion is that Mr. Lambert is the right person at the right time to lead Pima Community College," Rebenstorf said.
Lambert also serves on the board of the American Association of Community Colleges.
The college began its search for a new chancellor after Roy Flores resigned from the position following controversy and citing health reasons last year. An interim chancellor was hired, Suzanne Miles, but she resigned this year after the college's accrediting agency, the Higher Learning Commission, put Pima on probation.
The interim chancellor is Zelema Harris.
The Higher Learning Commission cited numerous problems with the college when it decided to put PCC on probation.
"The commission's board of trustees took this action because of concerns related to integrity, financial management, personnel policies and procedures, shared governance, board oversight of the institution and systemic and integrated planning," the commission said in a statement at the time.