(VIDEO: AZPM )
Listen to the story:
Tucson Mayor Jonathan Rothschild traveled to Washington, D.C. this month to meet with several members of the federal administration and to share Tucson's perspective with Arizona's congressional delegation.
He met with employees of the Federal Transit Administration, an anti-homelessness initiative and economic advisers.
Rothschild also met with both U.S. senators and eight of the state's nine members of Congress.
The conversations were constructive, he said when he returned to Tucson. He provided Tucson's perspective on policies, was able to ask for administrative help on some items and worked on having a role in future conversations about the southern part of the state.
"The real purpose of the trip was to build those congressional relationships," he said.
There was a theme to his trip: building infrastructure to improve commerce with Mexico and improving the relationship with Mexico.
The infrastructure improvements are needed along Interstate 19 on Tucson's South Side, where truck traffic from the border enters the metropolitan area, Rothschild said.
"We need to assure that our interchanges at Ajo, Valencia and Irvington can properly hold the traffic," he said. "I tried to talk about the fact that healthy economies in Mexico and Arizona help with the issue of immigration."
Indeed, that issue was on the minds of the people he met. Rothschild described speaking with Sen. Flake as there were hearings about the bipartisan immigration reform legislation Flake helped draft.
Rothschild also spoke with the federal transit administrator about some of the problems Tucson has been having with Oregon ironworks, the company building the vehicles for Tucson's streetcar line.
"We had frank conversations about the streetcar, and the administrator was able to offer up to the city some resources, in terms of, not money, but in seeing what other cities are doing, what they've done, putting us in touch with other agencies," he said.
Tucson is second in line to the city of Portland, also having its streetcars manufactured at Oregon Ironworks.
"We talked about a joint strategy for communicating with Oregon Ironworks and the administrator was quite clear with us that Oregon Ironworks was substantial and that they will complete the work, but we want to make sure that they do it as quickly as possible," Rothschild said.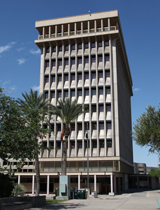 Tucson city hall building. (PHOTO: Andrea Kelly)
When he met with officials from the Interagency Council on Homelessnes, Rothschild found out Tucson can help more homeless veterans than he realized.
"In the city of Tucson we have about 68 vouchers for homeless veterans that we still have existing that we haven't used, and we were awarded 75 more. So that gives us about 140 vouchers that we can use to get veterans into apartments here in town," Rothschild said.
He also spend time "talking about the ways that we bring the community together, with the VA, with others, to approach that problem."
Tucson is a community poised to make a difference on the issue of homeless veterans, Rothschild said.
"Tucson has been indicated by the (Obama) administration as a city that it believes can end veterans homelessness by 2015 and child and family homelessness by 2020," the mayor said. "So in meeting with the directors, they really laid out a game plan for the city to get that job done."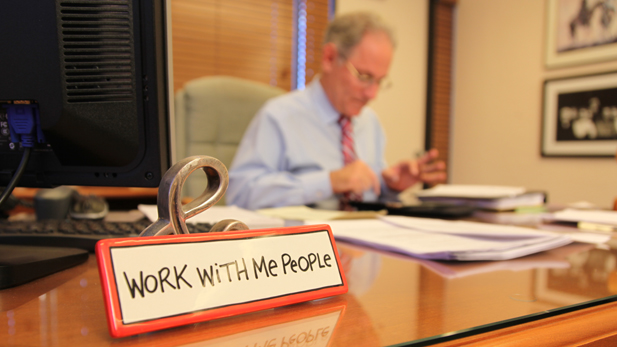 Tucson Mayor Jonathan Rothschild works in his office at city hall. (PHOTO: Andrea Kelly)