Gov. Jan Brewer made a quick trip to Tucson Wednesday to push her Medicaid expansion plan with Southern Arizona health care and business leaders.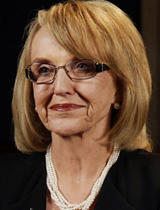 PHOTO: AZPM
Gov. Jan Brewer
The Republican governor's appearance was the first in Tucson on Medicaid and the latest in a series of public gatherings she has held to urge expansion of the health care program. The governor was forceful in her call for passage.
"There's absolutely no reason why our Legislature cannot get this passed out of the House and revoted in the Senate and get the job done," Brewer said, referring more than once to it being "the right thing to do."
The Senate passed a budget that had the Medicaid expansion in it last week. The House is expected to make changes, including possibly referring the issue to Arizona voters in a special election.
Brewer said Wednesday that she opposes a voter referral and said her talks with legislative leaders give her hope for passage by the end of May. She said she would not theorize on what action she would take if the Legislature sends her a referendum proposal for Medicaid.
Appearing with her was Rep. Ethan Orr, R-Tucson, whom Brewer lauded as a champion for the cause of bringing health insurance to more people. Orr supports Medicaid expansion, and he said seven other Republicans in the House do also.
Those eight Republicans would join what is expected to be a unified bloc of 24 Democrats to give the proposal a majority in the 60-member House.
Brewer has said expanding Medicaid under the Affordable Care Act would bring health coverage to 240,000 more people, allow 21,000 new jobs in the health-care industry and free up state tax revenues for spending on education and other needs.
Opponents have said it would add to the federal deficit and debt, and they say they are worried that the federal government will cut back on the program at some point, leaving the state to either come up with the money to cover people or drop them from heath coverage.
Participants in the Tucson rally, held in an auditorium at Tucson Medical Center, included TMC CEO Judy Rich and representatives of the Metropolitan Tucson Chamber of Commerce and the Southern Arizona Leadership Council.