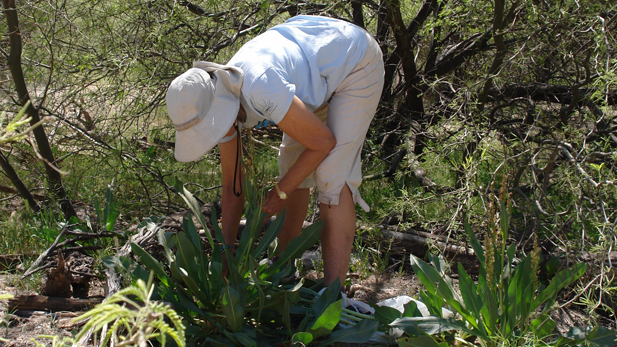 Martha Ames Burgess finds wild rhubarb near Aravaipa Creek

Laura Markowitz
The Sonoran Desert abounds with a rich variety of native foods, if you know where to look, and when to look. Local native food expert Martha Ames Burgess takes Laura Markowitz out to Aravaipa Canyon to hunt for a springtime desert delicacy.
Listen:
Stalking the Wild Rhubarb
Written, recorded and produced by Laura Markowitz
A month or two after generous winter rains, Arizona's Sonoran Desert is suddenly lush with green. We're about 60 miles north of Tucson, and Martha Ames Burgess stalks the wild rhubarb.
"You'll see these leathery green rosettes of leaves emerging out of the sands," she says, making her way through a mesquite bosque on the floodplains of one of Arizona's perennial creeks. "They'll send up a stalk that looks like a stalk of pink celery."
She spots a stand of wild rhubarb and her face breaks into a happy grin under her wide-brimmed hat.
"Oh this is rich! This one has at least six or seven flower stalks, so we know we're not going to heavily impact this plant if we take some of its generous productivity. So with thanks to this plant, I'm going to reach my handy dandy Swiss army knife down and cut it at the base. See, it's almost a raspberry-pink streak."
Burgess is an ethno-botanist who came to Tucson for graduate school in the 1960s. Today, she teaches classes on native foods and medicines through the Native Seed Search, a local nonprofit dedicated to conserving and promoting the biodiversity of native foods in the Sonoran Desert.
"That's really been my mission. I know I need to be teaching, opening eyes of people who love the desert – but they may not see what's really there."
Burgess is originally from Virginia, and her roots go all the way back to an ancestor who was the cook on the Mayflower. When she first moved to Tucson, she met a Tohono O'odham elder named Juanita Ahil and became her apprentice.
"Where would the people of the Mayflower have been if it hadn't been for the native people with their total knowledge of the ways of the land and the fruits of the land?" Burgess says. "I can't believe how fortunate I am to have been taken under Juanita's wings. She taught me how to collect through the seasons, which plants were harvested when, and how they were important."
"Her name for rhubarb pie was heeworchors pasteer. That's how she said it: Heeworchors. You say it! She would make me repeat over and over. Because that's the way oral history is."
Burgess harvests a few more stalks. "I want to thank this plant because it's going to feed my family with some real good nutrients – calcium, vitamin C and lots of other phyto-nutrients. I mean this is good food! It's not just eking out a living! When the desert produces it produces in such quantity. Desert people know how to harvest, when to harvest, how to store it so they could live off of that periodic plenty for the rest of the year."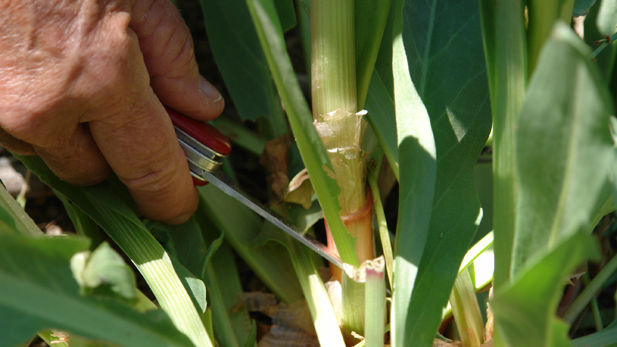 Harvesting wild rhubarb with a Swiss army knife

Laura Markowitz
After she harvests a dozen stalks, we head back to her kitchen in Tucson to make a desert dessert that she calls "wild rhubarb crisp."
"It's like apple crisp with the sweet and tart combination," she explains. She uses agave nectar to sweeten it. ("Technically it's a sap; it's not a nectar.") She makes the crumble topping from butter and flour that's made from ground velvet mesquite tree pods.
"It's fabulous, and it's got such sweetness in the complex carbs," says Burgess, who
preheats the oven to 350 degrees. Adding dash of cinnamon and a last drizzle of agave, she slides the wild rhubarb crisp into the oven.
"The richness of the desert comes in strange and interesting pulses," muses Burgess as it bakes. "It's as if the desert plants know that they have this little window. When the rain is right and the season is providing them with everything it needs, it creates windows of opportunity to harvest these gifts."
"When you're eating from the wild, you really need to be attuned," she advises. "You've got to have a flexible schedule because when it happens, it happens. You have to be scoping it out, checking your beat."
She hopes that more people will appreciate the bounty of the desert, and that developers who are building on floodplains will become conscious of preserving native plants, including tubers like wild rhubarb.
The kitchen timer rings and Burges's eyes light up.
"Woohoo!" she exclaims. "It's not every year we can celebrate with heeworchors pasteer!"