(VIDEO: AZPM)
The Arizona House is poised to pass Gov. Jan Brewer's Medicaid expansion proposal after political maneuverings are dealt with in the next week or two, two state representatives said Friday.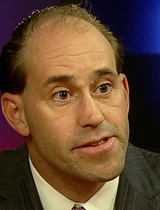 State Rep. Ethan Orr, R-Tucson. (PHOTO: AZPM)
"I'm working ... to figure out how this moves to the floor," said Rep. Ethan Orr, R-Tucson, adding he is one of eight Republicans in support. "There will be an up-or-down vote on Medicaid."
"What we are united on is reached across to the other side to make sure that no major changes are going to take place from the bills that were sent over from the Senate," said Rep. Bruce Wheeler, D-Tucson and the House minority whip.
Twenty-four Democratic votes in the House combined with Orr and seven other Republicans creates a majority in the 60-member chamber.
Orr and Wheeler said in separate interviews for Friday's Arizona Week broadcast that the proposal will take some time to get to the floor, where there is expected to be a vigorous debate, not unlike what occurred last week when it passed the state Senate 19-11.
That may mean next week, but more likely will be in two weeks, they said.
First, House leadership must decide what route the legislation will take - through the Appropriations Committee or the Health Committee. If Appropriations, chaired by Medicaid opponent John Kavanagh, R-Fountain Hills, the process will take longer. If Health, chaired by Medicaid supporter Heather Carter, R-Phoenix, the process will be faster.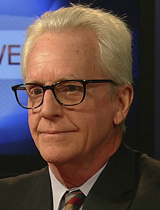 State Rep. Bruce Wheeler, D-Tucson. (PHOTO: AZPM)
Additionally, both said, the House must deal with Speaker Andy Tobin's proposal to let the voters decide by referendum in a special November election. Orr and Wheeler said that idea likely does not have enough votes.
Brewer has pushed Medicaid expansion under the Affordable Care Act since her State of the State speech in January. She has called it "the right thing to do" for Arizona's uninsured poor and has said it will be a boon to the state finances.
That's because it would bring up to $8 billion in federal money into the state for Medicaid coverage and would not cost taxpayers anything, because hospitals will pay the state's required match, Brewer has said.
While the contentious issue has driven a wedge in the usually solid Republican majority at the state Capitol, Orr and Wheeler said they are uncertain what it means for the political dynamic going forward.
Orr said he hopes to see the GOP come together again on its core issues. Wheeler said he hopes it is an opportunity for Democrats to have more of a say in state politics and policy.