Listen:
Veterans' issues are bipartisan issues, says U.S. Rep. Ron Barber, which is why he says he is championing changes this congressional session to help veterans access benefits.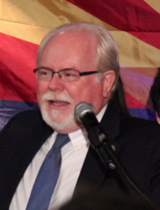 U.S. Rep. Ron Barber, D-Ariz.
Barber, a Democratic from Southern Arizona's 2nd Congressional District, said Wednesday that he plans to introduce a bill next week to allow veterans to get health care near their homes, instead of traveling to Veterans Affairs health care facilities, potentially hours away in big states such as Arizona.
Barber is part of a bipartisan group of 20 federal lawmakers, 10 from each party, working on veterans' issues, and he said he thinks if that group backs legislation to help veterans, it will get the attention of the entire Congress.
He also said he thinks there is enough money to fund better services, even in a time of budget cuts.
"If we can't put money behind veterans' services, then our budgets don't mean much," Barber said at a news conference. "And so for me it's a matter of priorities. We must prioritize our veterans. They deserve nothing less."
The federal government has many places it can make budget cuts, he said, starting with cutting wasteful spending already identified by the Government Accountability Office.
He will introduce a bill next week to allow veterans to get care in their hometowns and to get Veterans Affairs to approve expenses for that care within 30 days, instead of claims sitting for months or years before services are approved.