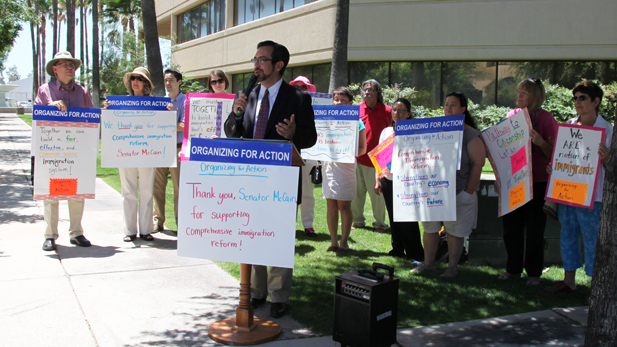 PHOTO: Fernanda Echavarri
Supporters of immigration reform gather outside of U.S. Senator John McCain's Tucson Office.
About a dozen volunteers with an immigration reform advocacy group gathered outside U.S. Sen. John McCain's Tucson office Thursday to show support for the immigration reform proposal he drafted with a bipartisan group of senators.
"We want to thank Sen. McCain for his leadership," said Art Mendoza of the Service Employees International Union and Organizing for Action. "You can't deny that he's done a lot of work to get to this point and to move the legislation thorough the Senate."
Mendoza said there is more work to be done.
"Jobs and wages across this country are affected when employers take advantage of cheap labor," he said. "Hopefully, this common-sense immigration reform will help address that and create a way that workers are paid fairly and employers can't take advantage of cheap labor."
Proposed legislation would require securing the border in a measurable way and would put 11 million illegal immigrants on a lengthy path to citizenship.