Part Four: School's Out
Lisa McCorkle danced her way out of school on the last day of class after 35 years in education.
Just before the last bell rang, McCorkle got on the intercom and made her final school wide announcement before retirement.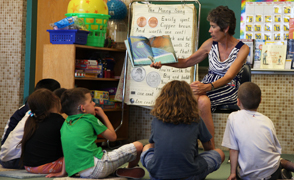 (PHOTO: Fernanda Echavarri)
She had told staff there would be no tears on the final day, only celebratory words, but once she started telling students she had picked out a song called "It's a Beautiful Day" for them, her voice got shaky and her eyes filled with tears.
"I hope you have a beautiful day and have a beautiful life and I love you all," she said in the announcement.
Jim Heinzelmann finished his first year as principal of Sopori Elementary School with "good memories, a to-do list, and a lot more confidence," than on his first day.
Heinzelmann started out the school year chasing stray dogs off the playground and ended it with removing a baby chicken from a school bus. On the last day of school, a bus driver contacted Heinzelmann saying a first-grader had a chick in his backpack and it could not be on the bus. Heinzelmann went out to meet the bus driver and took the chick out of the bus, capping off his first year as a school principal.
About Lisa McCorkle
McCorkle has been the principal at Dietz for more than 12 years. She was a teacher in TUSD for 21 years at Lineweaver Elementary School. She will retire at the end of the school year.
About Jim Heinzelmann
Heinzelmann became principal at Sopori in August. He was a teacher and an assistant principal in the Sahuarita district for almost a decade. He previously had left the business world to go back to school and become an educator.
About 'Matters of Principal'
An Arizona Public Media special radio series exploring the highs and lows of school leadership through a year in the life of a new principal and a retiring principal.
Featured in the series are Jim Heinzelmann from the Sahuarita Unified School District and Lisa McCorkle from the Tucson Unified School District. Heinzelman's school is Sopori Elementary School in Amado, and McCorkle's school is Dietz Elementary School in Tucson. Both principals are leading schools in a time of change for education in the state of Arizona and across the country.
'Matters of Principal' is produced by Fernanda Echavarri.
Hear the rest of the series here.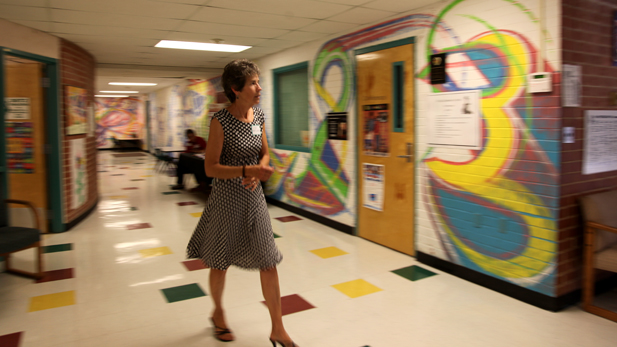 Lisa McCorkle, principal at Sopori Elementary School. (PHOTO: Fernanda Echavarri)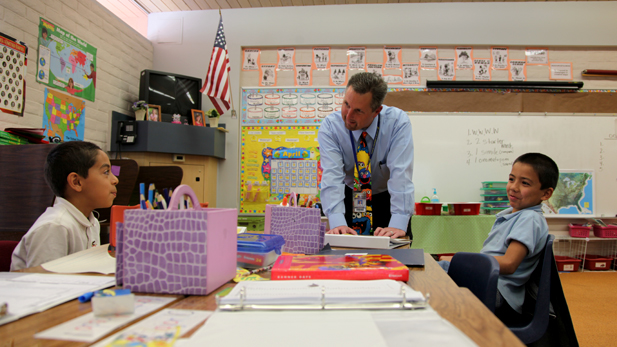 Jim Heinzelmann, principal at Sopori Elementary School (PHOTO: Fernanda Echavarri)