Story by Britain Eakin
Dean Saxton recently held up a sign on the University of Arizona campus that said "You Deserve Rape."
His sign, and his speech about rape, sparked a debate regarding the limits of free speech on campus.
Saxton is an undergraduate student of religious studies and classics at UA, and is better known on campus as Brother Dean.
During the academic year he regularly preaches at Heritage Hill in front of the UA Administration Building.
If the university community wants to stop rape, Saxton said, young women and men need to realize they may be provoking it.
"If you dress like it, if you act like it, if you get drunk, if you go to a party, don't act surprised if something bad happens like that," Saxton said.
In April, he followed the local Take Back the Night march with his sign. Take Back the Night is an annual, nationwide event to protest sexual violence and support survivors of rape.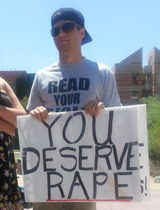 PHOTO: Britan Eakin
Dean Saxton, also known as "Brother Dean"
Samantha Sharman, a UA student who took part in the march, was angered by Saxton's speech.
"There were multiple sexual assault survivors who were triggered by these signs and his speech and who were too scared to come to Take Back the Night when the whole purpose of Take Back the Night is to create a space of solidarity for survivors," Sharman said.
Beyond the tone of his message, Saxton's words raised a First Amendment debate on campus.
Sharman led the gathering of nearly 3,000 student signatures to petition the university to reprimand Saxton and prevent him from preaching on campus.
Kathy Reister, UA's associate dean of students, said that while she appreciates the efforts of students to initiate petitions, they can't reprimand Saxton unless he violates the student code of conduct.
The only issues around speech the Dean of Students office can address are harassment directed at a particular individual, direct threats, incitement and imminent violence, she said.
In addition, Reister said, the university has a responsibility to uphold the rights of students to express themselves.
"We find some of the messaging sometimes just as troubling as everyone else does," she said. "In my role I have a responsibility to make sure that we're upholding that really important part of the Constitution on a college campus, and it's a challenging thing to manage."
Reister said she called the UA Police Department during a protest of Saxton's speech out of fear for his safety.
He was assaulted six times that day, Saxton said.
"I'm not out there to press charges, but you know it's freedom of speech, not freedom to assault," Saxton said.
Saxton said he believes a rape culture exists on campus, and his message is not directed only at women. He said rapists deserve harsh punishment.
"I believe if we don't demand the death penalty for people who rape, then we're encouraging it," Saxton said.
Brooke Lober, a UA graduate student, said Saxton regularly engages in hate speech against different groups.
"This student has hate speech against Jews and Muslims every day, including comparing us to pigs," Lober said.
Representatives from the UA's Dean of Students Office said they are looking into complaints filed against Saxton.
In the meantime, Saxton said, he will continue preaching.
Sharman and Lober said they are thinking about ways to organize against him next semester.
Britain Eakin is a UA graduate student and volunteer at Arizona Public Media.