Arizona Secretary of State Ken Bennett will testify before the U.S. House Administration Committee on Tuesday in Washington on legislation to improve voter registration.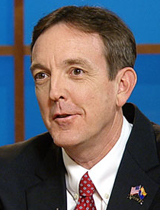 PHOTO: AZPM
Secretary of State Bennett
As secretary of state, Bennett is Arizona's chief elections officer, overseeing the process from registrations through election canvassing and certification. He will be among several witnesses at the hearing, which will focus on the proposed Voter Registration Efficiency Act now being considered in the House.
Arizona has led the nation in restricting how people may register to vote. In 2004, under the campaign leadership of Gov. Jan Brewer, who then was secretary of state, voters approved Proposition 200, which requires a person to show proof of citizenship when registering to vote.
The law is before the U.S. Supreme Court, which heard arguments on its constitutionality in March. A lower court ruled in favor of civil rights groups arguing that Arizona's law went too far in rejecting the federal "motor voter" registration procedure. The groups have said it was designed to keep naturalized citizens from registering to vote.
Brewer and proponents of the law have said it was meant to limit voter fraud. The state has reported a handful of voter fraud cases in the last decade, most of them involving people who were registered in two states.