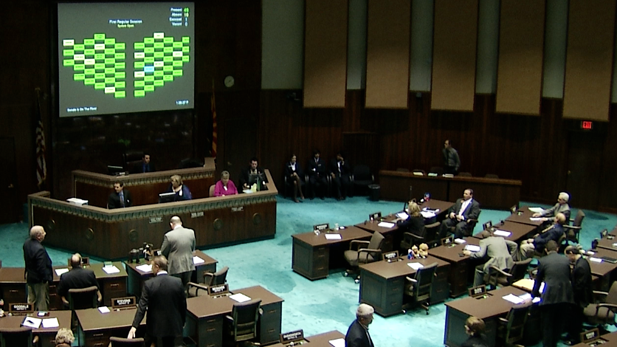 The Arizona House of Representatives, in a 2013 floor session.

azpm
The Arizona House of Representatives is expected to take up the state budget and Gov. Jan Brewer's Medicaid expansion plan this week.
How fast it will move and how far it will go are key questions as the legislative session moves into its 17th week with no end clearly in sight. Lawmakers have been working three-day weeks and will resume meeting Tuesday.
Under the Arizona Constitution, the Legislature must pass a state budget by July 1, the start of the new fiscal year.
Brewer's office released her weekly public schedule Monday, listing no events and saying, "Hold for budget, Medicaid negotiations."
The state Senate passed an $8.84 billion budget, including the Medicaid expansion, last month. Action in the House has been stalled while closed-door negotiations have been under way on how to handle the issues.
State Rep. Ethan Orr, R-Tucson, said Monday that supporters of Medicaid expansion, including himself, are pushing for action on the budget, including Medicaid. He said there are eight Republicans in support of Medicaid expansion, and when combined with all 24 Democrats, that is a majority of 32 in the 60-member House.
"We've been sitting on the budget for two weeks," Orr said. "The people of this state expect the budget process to go forward. We just want to see movement so we can get the budget discussed and approved."
Orr said he hoped to see the budget bills move to the House Appropriations Committee by Thursday, or at the latest Tuesday, June 11, for action.
"There's no new information coming in that would change anyone's mind, so let's get it done," he said.
House Speaker Andy Tobin, R-Paulden, has said he wants to see the state's voters decide on Medicaid expansion in a special referendum election this fall, an idea that lacks support. Orr said he thinks Tobin can support expansion if he gets to "put his stamp on it" with some of his own criteria.
Among them, Tobin has said, are an expiration date, which the Senate included, tighter safeguards against the federal government backing out of funding and assurances that the cost of hospital fee payments is not passed to patients. He also has said he wants to measure if the amount of hospitals' uncompensated medical care is reduced.
Brewer, who has bucked legislative leaders in her own Republican Party in seeking expansion, has said she won't sign a budget without it. She has said Arizona needs it to insure 300,000 poor residents, bring billions in federal money to the state, save thousands of health-industry jobs and allow the state to shift general fund money to other needs.
Opponents have said it unacceptably expands socialized medicine under the Affordable Care Act, it adds to federal debt and there is no guarantee the federal government will keep paying for it. They also have said that because hospitals will be assessed to cover state costs, it is a tax increase, requiring two-thirds approval in the Legislature. The Senate vote was one short of two-thirds.