Today's kids are rarely separated from their electronic devices.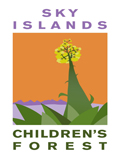 PHOTO: U.S. Forest Service
When they are, they're not likely to start thinking about nature and wildlife. Or about a career in forestry.
But a new initiative is trying to change that. The U.S. Forest Service is developing programs that they say will connect American children to the outdoors through conservation education.
Two initiatives, Children's Forests and More Kids in the Woods, were recently awarded $772,820 in national funding.
In Arizona, the Coronado National Forest received $49,628 for its Sky Island Children's Forest.
The concept will be modeled after similar Children's Forests nationwide, said Heidi Schewel, spokeswoman for the Coronado.
"There are other children's forests in the country," according to Schewel. "Eventually, the hope is that there will be at least one of these forests in every state."
And it's more than just about getting kids out among the trees.
"This is about youth and family in the community, and getting them out into nature," Schewel said.
"What the forest wants to do is provide a foundation for lifelong learning, stewardship and advocacy for communities and the natural environment. Because people take care of what they love."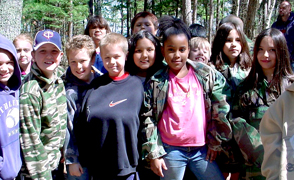 PHOTO: Outdoors USA
A group of students at a 2008 Kids in the Woods! event in Minnesota
The program, which has the Tucson Unified School District as a partner, has already engaged kids in nature walks and plant and animal identification classes. Schewel also points to a project where youth gathered seeds and are building a native plant nursery.
A U.S. Forest Service news release describes Children's Forests as a way to "get young people to take a leadership role in forest stewardship by giving them a voice in caring for the land."
Forest service officials like Schewel also hope such initiatives will get kids interested in the field of forestry.
"Who are going to be the future land managers of our public lands?" Schewel asks.
"A lot of children aren't thinking about employment when they go out into the national forest. But, if they find something that's important for them, something they can become a part of and take care of, that may steer them down a career path towards land management."
More resources:
U.S. Forest Service's 'Just for Kids' site
U.S. Forest Service Conservation Education site