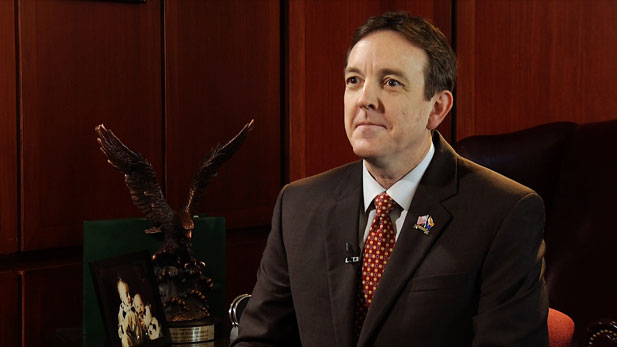 PHOTO: AZPM
Ken Bennett, Secretary of State, discusses statewide work for Election Day.
Arizona Secretary of State Ken Bennett told a U.S. House committee Tuesday that it makes sense to have a national system to change voter registrations.
Bennett, who is Arizona's top elections official, said the system would work for when people move to other states and get new driver's licenses.
Bennett testified before the House Administration Committee on HR 2115, which would require people who apply for new driver's licenses to say whether they want the states to which they are applying be their new residences for voter registration purposes.
Arizona and 22 other states already compare their voter-registration rolls regularly, Bennett said. They look for duplicate records, and when they find duplications, they try to figure out where a person resides.
"Once an election occurs in Arizona, we share our file as to who voted, obviously not how they voted, but who voted. We share four pieces of information: their first name, last name, date of birth and the last four digits of a Social Security number."
Listen:
Bennett said last year that the system led his office to investigate six people who voted in Arizona and another state in 2008 and nine people who did so in 2010. That's among 3 million registered voters in Arizona and about 2 million who actually voted in those elections.
The bill Bennett testified on Tuesday would call for the state to ask whether people wanted to change their voter registrations after moving.
That is concerning, said Elisabeth MacNamara, president of the League of Women Voters. It could lead to people being improperly removed from voter registration rolls, she said.
Her concern is that records aren't required to be electronic, and there is too much room for error in the process.
"Errors likely will be introduced under HR2115 at multiple steps, beginning when the motor vehicle authority in one state copies the data from the applicant's paper application form and sends it to the second state's motor vehicle authority," MacNamara said.
She enumerated other problems, including that it's not technologically modern. She said many of the issues she pointed out can be solved easily before the bill goes to a vote in the full House.
Those concerns are overblown, because what the bill requires is simple, said Chris Thomas, the elections director in Michigan.
"This is a straightforward question: Is this your state for voting purposes, yes or no?" Thomas said. "Then particularly if they say no, we won't take any action."
Rep. Candace Miller, the chairwoman of the House Administration Committee, said the bill will likely undergo changes before it comes to a formal vote.