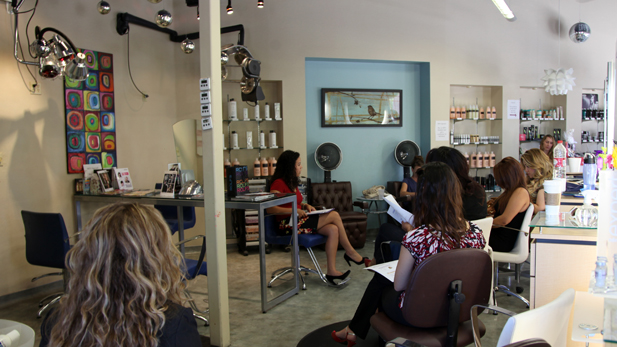 PHOTO: Fernanda Echavarri
Sarah Jimenez Valdez, from Emerge, teaching at Mauricio Fregoso Hair Salon
The Emerge Center Against Domestic Violence has launched a training program to help hair stylists identify signs of domestic abuse on their clients.
In the last two months, Sarah Jimenez-Valdez has visited seven hair salons in Tucson as part of the Safety is Beautiful campaign.
In an hour-long class, Jimenez-Valdez recently taught stylists at the Mauricio Fregoso Salon basic signs that clients may be experiencing abuse.
"If a client has unexplained bald spots, unexplained bruising or shows tenderness, soreness or other signs of discomfort while doing things like having her hair washed, that could be sign," she told stylists. "If your client's partner does not allow her to change her hair style or if he dictates how she should look despite your client's wishes, that could also be a sign of abuse."
Jimenez-Valdez, the Emerge specialist training hair stylists, said people tend to share personal information with hair stylists.
"The idea to develop this program started after a salon owner came to us and shared what they were experiencing in their salon that a lot of their clients were disclosing private personal information that involved domestic abuse," Jimenez-Valdez said.
Hair stylists are advised not to confront the abuser, or try to pressure the victim into leaving her partner, but instead they are taught to refer clients to professionals.
"We know we are not therapists, but we are people and we have close relationships with our clients," said Norma Fregoso, owner of the Mauricio Fregoso Salon.
She scheduled the class at her salon after Emerge recently contacted her.
"I had never heard of this before but when I got the postcard I just thought it was brilliant and thought this is a long time coming and I can't believe somebody hadn't thought of it before," she said.
After the class, Jimenez-Valdez left dozens of brochures for the staff as well as "shoe cards" for the restroom.
"We call these business cards with our hotline number 'shoe cards' because often women have to hide them in their shoes so their partner doesn't see them," she said.