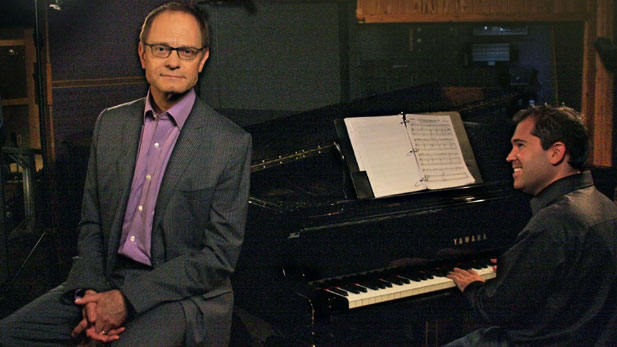 PHOTO: PBS
Performer David Hyde Pierce and pianist Andy Einhorn.
This film is the first of its kind to examine the phenomenon that, over the 50-year period of its development, the songs of the Broadway musical were created almost exclusively by Jewish Americans. These are the popular songs that our nation took to war, sang to their children at bedtime, and whistled while waiting for the bus; taken in total they comprise the vast majority of what is now commonly referred to as "The American Songbook."
The program features interviews and conversations with some of the greatest composers and writers of the Broadway stage. Broadway Musicals: A Jewish Legacy showcases the work of some of the nation's pre-eminent creators of musical theatre including Irving Berlin, Jerome Kern, George and Ira Gershwin, Lorenz Hart, Richard Rodgers, Oscar Hammerstein II, Kurt Weill, Sheldon Harnick, Jerry Bock, Leonard Bernstein, Stephen Sondheim, Stephen Schwartz, Jule Styne and many others.
GREAT PERFORMANCES Broadway Musicals: A Jewish Legacy, Sunday at 8 p.m. on PBS 6.