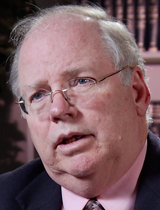 AZ House Speaker Andy Tobin, R-Paulden. (PHOTO: AZPM)
Republican House Speaker Andy Tobin is taking up the $8.8 billion state budget passed by the Arizona Senate but says his effort to reach a deal with the governor on Medicaid have failed.
Tobin said Tuesday he was assigning the package of 10 Senate budget bills to the Appropriations Committee and expects the House to finish work on the entire package by the end of the week.
The 10 bills include one to which the Senate attached a Medicaid expansion amendment on a 19-11 vote. The amendment was largely the proposal for Medicaid expansion that Gov. Jan Brewer has been pushing since January.
House Appropriations Committee Chair John Kavanagh, R-Fountain Hills, has said he would strip out the Medicaid amendment and unrelated spending inserted into the budget in the Senate.
A group of eight House Republicans, led by Rep. Heather Carter, R-Phoenix, has aligned with the House's 24 Democrats on Medicaid expansion, composing a majority of votes in the 60-member body. The Republicans supporting Medicaid have said if it is removed in committee, they will add it back in by amendment when the bills reach the House floor.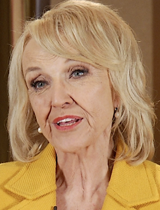 Gov. Jan Brewer. (PHOTO: AZPM)
Tobin wanted to take the proposal to the voters in a special referendum election this fall, but he could not find support for it in the House. He and the governor met several times to try working out agreement on various aspects of Medicaid expansion.
Tobin wanted tighter safeguards against the federal government backing out of funding and assurances that the cost of hospital fee payments is not passed to patients. He also has said he wanted a tool to measure if the amount of hospitals' uncompensated medical care is being reduced as a result of Medicaid expansion.
Brewer, who has bucked legislative leaders in her own Republican Party in seeking expansion, has said she won't sign a budget without it. She has said Arizona needs it to insure 300,000 poor residents, bring billions in federal money to the state, save thousands of health-industry jobs and allow the state to shift general fund money to other needs.
Opponents have said it unacceptably expands socialized medicine under the Affordable Care Act, it adds to federal debt and there is no guarantee the federal government will keep paying for it. They also have said that because hospitals will be assessed to cover state costs, it is a tax increase, requiring two-thirds approval in the Legislature. The Senate vote was one short of two-thirds.
The Associated Press contributed to this story.