Discord over how to proceed with a state budget and absent members mean Arizona House Appropriations Committee hearings are being delayed until next week.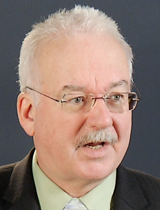 State Rep. John Kavanagh, R-Fountain Hills. (PHOTO: AZPM)
Committee chairman John Kavanagh, R-Fountain Hills, said Wednesday the committee he chairs won't meet as originally scheduled Thursday to take up the state budget passed by the Senate three weeks ago.
Kavanagh also said a Senate-approved provision expanding Medicaid that Gov. Jan Brewer is insisting upon will not make it out of his committee.
Instead, he said, it will be up to House Democrats and "friendly" Republican Medicaid supporters to get it attached on the House floor when it takes up the budget sometime next week.
Medicaid supporters have said that eight Republicans, led by Rep. Heather Carter of Phoenix, favor the expansion and are expected to join all 24 House Democrats for a majority of at least 32 in the 60-member House.
The state Senate approved Medicaid expansion in a similar way. Budget bills went to the floor, where six Republicans led by Majority Leader John McComish of Ahwatukee amended one bill to include the expansion.
In a 15-minute House floor session on Wednesday, Rep. David Livingston, R-Peoria, asked that the Medicaid expansion be considered separately from the state budget bills.
"We want a separate vote on Medicaid outside of the budget," Livingston said. He added that the House also must look to cut 5 percent from the budget approved in the Senate to bring it closer to structural balance.
The Senate-passed budget is $8.4 billion, which Livingston said represents a $464 million structural deficit.
Brewer has been pushing for Medicaid expansion since her State of the State speech in January, saying it will bring billions of federal dollars to Arizona under the Affordable Care Act. That will allow the state to insure 300,000 poor people and shore up the health-care industry, especially in rural areas.
Opponents say expanding Medicaid will be an expansion of socialized health care as part of "Obamacare," and to the federal debt and it will leave the state vulnerable to a federal pullout.
The delay in House budget action puts more pressure on the Legislature because the current budget expires at the end of the month, and under the state Constitution, the Legislature must have a new budget in place by then.
Kavanagh made note of the impending deadline on the House floor Wednesday when fellow representatives congratulated him on his 63rd birthday.
"As we do post-60, I'm lamenting my birthday, and I'm lamenting that I'm still here," Kavanagh said, referring to the length of the legislative session. "I told you so. The key now is to make sure I'm not here June 30, which is my wife's birthday."
The Associated Press contributed to this story.