(VIDEO: AZPM)
Gov. Jan Brewer set off a political fight with her Medicaid expansion proposal, creating a new political dynamic that could have significant implications for next year's election, several legislators say.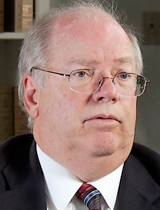 Andy Tobin, Arizona House speaker, R-Paulden. (PHOTO: AZPM)
The proposal already has split the once airtight Republican majorities in both legislative chambers and has delayed passage of the state budget for 2013-14, pushing it to the brink, with the deadline just three weeks away and a lot of work still to be done.
A budget including Medicaid expansion passed the state Senate May 16, but sat on House Speaker Andy Tobin's desk for more than two weeks while he tried to negotiate with Brewer on an alternative to the Medicaid proposal. He got nowhere, so on Tuesday sent the budget to the House Appropriations Committee, where action is expected next week.
Meanwhile, legislators already are looking at what the Medicaid fight has wrought and who the winners and losers may be because of it.
"If the Republican caucus can't stay together on 31 votes (in the House) and 16 in the Senate, then clearly there's a problem," said Tobin, R-Paulden. "So that would mean clearly the Democrats and a few Republicans, if they're going to take over the budget as well, then that's what's at risk."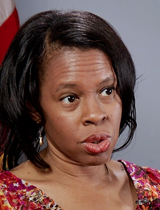 Leah Landrum Taylor, Arizona Senate minority leader, D-Phoenix. (PHOTO: azpm)
Tobin and other legislators made their comments in interviews for Friday's Arizona Week broadcast.
Senate Minority Leader Leah Landrum Taylor, D-Phoenix, said she sees the Republican-Democratic coalition formed to pass Medicaid in the Senate as a positive for Arizona.
"The bottom line in everything is that with the state in general, people would like to see our legislators working better together and looking at some of the bigger issues that we are facing," Landrum Taylor said.
Her counterpart, Senate Majority Leader John McComish, R-Ahwatukee, led a group of Republican senators who joined the unanimous Democratic caucus in passing Medicaid expansion and the budget, fending off two dozen amendments meant to block it. He said he does not see the coalition as permanent.
"I think there was this issue philosophically that we all coalesced around, that we all believed was important, in fact, very important, and that's why we worked together," McComish said. "I think we have Republicans and Democrats differ on other issues, and I think we would continue to differ on those other issues. Although, it's a good thing to show that we can work together.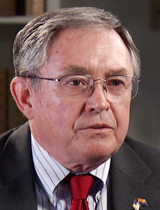 John McComish, Arizona Senate majority leader, R-Ahwatukee. (PHOTO: AZPM)
"I don't see it as a grand coalition going forward, on any real extended level," he said. "I don't anticipate that."
Senate President Andy Biggs, R-Gilbert, who was on the losing end of the Medicaid and budget fight, agreed that the coalition may be short-lived, least as far as legislative action is concerned.
"I'm not sure that their objective extends beyond Medicaid," Biggs said. "What we saw on the budget vote, there was obviously some agreement made on what they would allow to go in the budget. So they altered the budget as introduced to become what it turned out to be. I'm not sure their objective is to do more than that."
Senate Assistant Minority Leader Linda Lopez, D-Tucson, said she sees discussions among coalition members ongoing and hopes more can come of it.
"We're continuing to talk, the coalition of Democrats and Republicans who came along," Lopez said. "Now, how permanent that will be, I don't know."
Rep. John Kavanagh, R-Fountain Hills, a Medicaid expansion opponent, said the short-term effect won't be known until next week, that is, whether Republicans favoring expansion side with Democrats on other budget issues.
Kavanagh predicted a negative outcome for Republican Medicaid supporters and an overall shift of the Legislature to more conservatism in the 2014 election.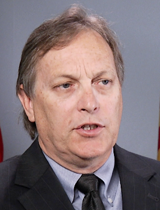 Sen. Andy Biggs, R-Gilbert. (PHOTO: AZPM)
"If it happens, you'll see a change in the dynamic of the Legislature next year," he said. "My guess would be that in 2014 when we have the election we will add a large number of Republican seats. ... You'll see more Republicans, and I believe those Republicans that voted for the expansion may very well not survive reelection."
Biggs said he is worried that the effect could be the opposite.
"I see Republican voter suppression because of this issue," he said. "If you pass what ostensibly is a Democratic-supported issue, and you see that that's the way the coalition is ... that changes the dynamic. You actually create this sense of voter suppression that will happen, especially by the people who say there's no difference between the two parties. ...
"Republicans then stay home, don't vote, maybe they even actually abandon the party. That kind of voter suppression is not healthy, especially if you're a Republican."
He said it could affect legislative elections and perhaps have an impact on the gubernatorial race and other statewide offices next year.