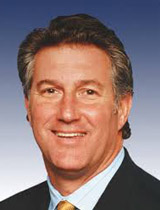 PHOTO: U.S. House
Former congressman Rick Renzi, R-Ariz.
A federal jury resumed deliberations for a fourth day Tuesday in the case against former Arizona congressman Rick Renzi.
The jury began deliberating in Tucson on Thursday on 32 felony counts of conspiracy, extortion and money laundering against the former Republican congressman.
Renzi is accused of trying to engineer a federal land swap for personal financial gain while in office and of looting clients' premiums from his family insurance business to help pay for his 2002 campaign, then lying to regulators about it.
Renzi represented Arizona's 1st Congressional District from early 2003 until early 2009.
Renzi's lawyer told jurors the prosecution's case was fabricated by FBI agents, while a prosecutor said he used his business and his elected office for corrupt purposes to benefit himself.