Arizona Gov. Jan Brewer called the Legislature into special session effective at 5 p.m. Tuesday to deal with the state budget and her Medicaid expansion proposal.
That move clearly showed the Republican governor's frustration with the stalled process. It came after House Speaker Andy Tobin earlier Tuesday adjourned the chamber for two days without taking up the budget or allowing an expected amendment to add Medicaid to it.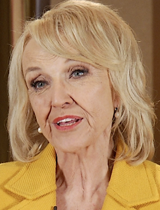 Gov. Jan Brewer. (PHOTO: AZPM)
The Arizona Republic quoted Matthew Benson, the governor's spokesman, as saying Brewer had waited long enough, and that Tobin adjourning the House until Thursday "was the final straw."
"The governor has been extraordinarily patient these last five months in working with leadership of the House and Senate," the Republic quoted Benson as saying. "But it's time to move forward. This will allow the Legislature to complete the people's business."
Leaders of the House and Senate immediately criticized the governor's move. Her call for the special session and their reaction to it set a tone that is highly unusual if not unprecedented among state GOP leaders.
"The special session was called without any consultation with Senate or House leadership, and was designed to commence at the precise moment it was conveyed," said an emailed statement from Tobin and Senate President Andy Biggs. "We are disappointed and stunned that the governor and her staff would resort to such an unnecessary, impulsive and unprecedented tactic."
On Tuesday, the House had been expected to consider the Medicaid proposal and the budget, but adjourned after less than 30 minutes and votes on two unrelated bills. Tobin said later that more time was needed to get the package of budget bills together.
The Senate last month passed Medicaid expansion as part of its $8.84 billion state budget. It was delayed in the House while Tobin tried to negotiate an alternative. He assigned it to committee just last week, saying he could not reach a deal.
On Monday, The House Appropriations Committee, dominated by Republicans opposed to Medicaid expansion, took up that portion of the budget and quickly voted to strip it out. The vote was 7-4 along party lines.
A coalition of Democrats and Republicans passed it in the Senate, and the same has been expected in the House. There, 24 Democrats are united on the issue, and the count of Republicans said to be in favor has varied from eight to 10. That would provide a majority in the 60-member House.