Arizona's dams are in "satisfactory condition," says a report from the Association of State Dam Safety Officials.
The report lists that as its highest ranking.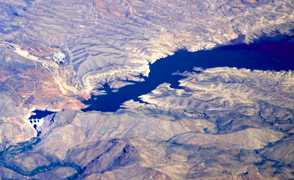 PHOTO: U.S. Bureau of Reclamation
Coolidge Dam and San Carlos Lake in central Arizona
A total of 101 dams in Arizona were listed as having "high hazard potential," which isn't an indication of the dam's structural condition. According to the association, those dams retain enough water, and are located close enough to population centers, to be a significant danger to life and property if they fail.
Thirty dams were listed as having "significant" hazard potential, and 116 were ranked as "low." The report includes data from 247 state-regulated dams. Those are dams that are at least 25 feet high and store a minimum of 50 acre-feet of water.
Most dams in Arizona are privately owned and are used for flood control and irrigation. Most larger dams are along the Colorado, Salt and Gila rivers and are more than 50 years old.

Read the Arizona Dam Safety Performance Report: View at Google Docs | Download File