Listen:
Debate over immigration reform began on the floor of the U.S. Senate Wednesday, with Republicans trying to tack on amendments to strengthen border security.
The reform measure is a top priority for President Barack Obama and a bipartisan group of senators called the "Gang of Eight." The group includes Arizona Republicans Sens. John McCain and Jeff Flake.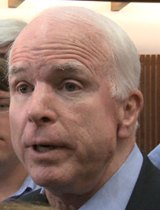 U.S. Sen. John McCain, R-Ariz. (PHOTO: AZPM)
Among the amendments hitting the Senate floor was one calling for 6,500 more Border Patrol and U.S. Customs officers. That would be on top of the 3,000 already called for in the legislation, and it posed two problems for McCain.
"If the Senate adds money to one place, it has to come from someplace else," he said, asking where in the deficit-laden federal budget that would be.
McCain also challenged the idea that even more officers are needed on the border.
"We've gone from 4,000 members of the Border Patrol several years ago to 21,000," he said. "And we are adding National Guard to the border. Personnel is not the challenge, whether it be the Texas border or the Arizona border. The challenge is to use the technology that is existing so we can surveil and intercept."
Under the legislation, border security would be tightened through additional personnel, strengthened technology and, in some places, stronger fencing. In addition, the bill would create a lengthy and expensive path to citizenship for the estimated 11 million people now in the country illegally.
It also would set up new visa programs for high-skilled permanent workers and low-skilled guest workers.
Senate Majority Leader Harry Reid, D-Nev., has said he hopes for Senate passage of the legislation before the congressional Independence Day recess next month.