It's a Friday afternoon, and the work floor at SunDanzer is busy.
There's no pre-weekend slowdown.
"These have been selling at a pretty fast pace," said company founder David Bergeron, "so we have trouble maintaining our target inventory."
To call Bergeron a rocket scientist may not be that far off the truth. He spent years working for NASA, heading up the Advanced Technology Refrigeration Project.
He founded SunDanzer in 1999 after leaving NASA. The company's first products were high-efficiency, battery-powered refrigerators for use in places such as remote cabins.
That's when the company tried a different challenge. Bergeron described it.
"We received a notice that there was a bit of a contest that the Gates Foundation was promoting for the development of a refrigerator that can store vaccines and keep them cold without using a battery, because they found that the battery was the weak link in these remote clinics."
SunDanzer began design on its first solar-powered refrigerator with the goal of winning that challenge.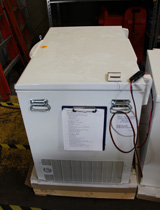 The first solar-powered vaccine refrigerator SunDanzer built sits in their office, running continuously for nearly 2 years.
It is now one of three companies in the world that make a vaccine refrigerator approved by the World Health Organization, and the only U.S. manufacturer.
The coolers are shipped to remote locations, mostly in Africa and Asia, where they allow clinics to keep medicine at proper storage temperatures with no need for batteries.
Each unit needs two solar panels, some wire and the refrigerator itself.
Kyle Justice works with the solar panels, dealing with setup and troubleshooting. He often sees issues that most western engineers would never have to consider.
"You're now shipping it to a Third World country, which is something I've never done before," Justice said. "So you think, we're shipping them this crate, and we got to make it a really heavy-duty crate because it's going all this way. Then it's going to go down these crappy roads or even hang from a camel."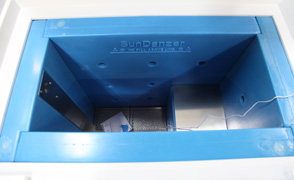 Part of the vaccine refrigerator's innovative design are these cooling packs that keep contents near freezing on cloudy days.
"We've got to make it so it's really sturdy, and then it turns out they don't even have a screwdriver to undo the crate."
That thinking means SunDanzer must simplify.
"You've got to find a solution that allows them to undo the crate with a tire iron, a stick, or a machete," Justice said. "Then give them all the tools that they would need to assemble it, and do it in a way that can in no way be screwed up."
Sending products, which are days or sometimes weeks, away from the factory, means they have to know each product comes off the floor working perfectly.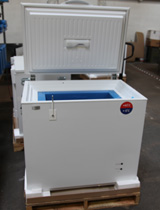 This newly built SunDanzer vaccine refrigerator has just passed inspection and will crated and shipped out.
"It's extremely difficult to service them," Bergeron said. "So we run some of them for days and watch for subtle changes in the performance to see if there's anything that could be going wrong, because if it gets there and it's not working, it's a very expensive proposition to repair it."
Justice and Bergeron are part of a team that is constantly rethinking conventional solar design to make it work better in the Third World.
A SunDanzer solar vaccine refrigerator comes with two photovoltaic panels. Customers are instructed to orient them at a 60-degree angle with one panel facing east and one facing west.
This counters traditional thought, which is to point a solar panel toward the equator, and it allows power without the use of a sun-tracking device.
"If I have a tracker, I could just use one side, and the tracker would turn it," Bergeron said. "But trackers are expensive, they're not that reliable, and they're a little hard to set up. It's just cheaper now with the price of solar panels to put two on."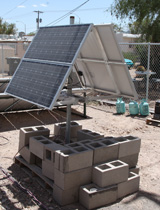 Photovoltaic cells set up in SunDanzer's unique east/west orientation.
SunDanzer has recently branched out to solve other problems.
The company has started making products that help keep the U.S. military safe from heat exhaustion, food-borne illness and dehydration. The products can be run on solar power, perfect for locations with no electrical grid.
Sundanzer has received accolades for is its water cooling system.
"The reason the military wanted to see a thing like this developed is hydration in the field was an issue," Bergeron said. "Without having cold water, the soldiers were tending to not drink enough."
The refrigerator is a tall box. Water bottles go into an opening on the top. They roll through a cooled chamber towards a door about midway down the tube.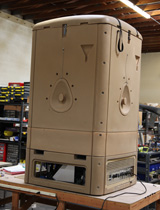 SunDanzer's water cooling system for the military allows troops to stay hydrated with cool water
"What was unique about this, and I think what enabled us to win the award for this particular development, was that the bottles that you put in first come to the bottom and get the cold air on them first," said Bergeron. "You get to pull out the coldest bottles first."
Sundanzer also makes walk-in-sized refrigerators, which allow troops to keep food fresher.
It also produces air conditioners that are used to cool living space, MRE ration storage and vehicles, all designed to run on solar power with no batteries necessary.
The company is getting ready to relocate its Tucson production facility to a spot with twice the square footage.
Sundanzer also plans to begin offering a solar-powered refrigerator to the general public soon.