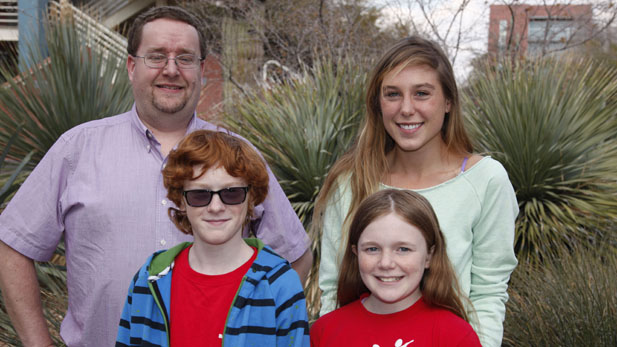 "Littles" Stone and Marianna with their "Bigs" Randy and Hannah (PHOTO: Martin Rubio)
This year, the national non-profit Big Brothers Big Sisters is marking 50 years of community involvement. Its mission is to pair boys and girls in need of positive role models with adult volunteers.
Allison Miller is a program specialist for Big Brothers Big Sisters, and her job is to interview prospective clients - or "bigs" and "littles" as they are called – and then match together pairs who have similar interests.
When asked if there were equal numbers of male and female volunteers, Miller said that the numbers aren't even close.
"We have a lot of big sisters, but we are always in need of big brothers," she said.
Miller added that the qualifications for becoming a big are relatively simple: "Someone who is reliable, dependable, consistent. Someone who wants to explore Tucson, have fun, and impact the life of a child."
Randy has been a volunteer big brother for about 20 years. He said that he chooses to participate in the program because he can directly see the difference that it makes.
Big Brothers Big Sisters policy is to not identify its participants by their full names.
"I think it is about taking a little bit of time now to make an investment in that child's future," Randy said. "And I think that the proudest moment would be for a little to turn around 20 years later and become a big themself."
Listen: