Listen:
Café Desta, just south of downtown Tucson, is one of very few Tucson restaurants specializing in Ethiopian cuisine, and it is noteworthy for another reason.
Co-owner and manager Huruy Zerghi said the business is owned collectively by a group of refugees from Eritrea and Ethiopia
"And most of our employees are from Eritrea and Ethiopia, and we try to give them an opportunity for employment," Zerghi said.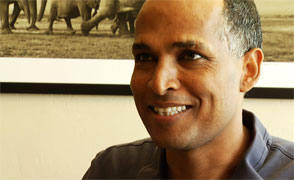 Huruy Zerghi talks about Cafe Desta
Zerghi said Café Desta provides a steady place of employment, a connection with a growing community of refugees and an important step for new residents eager to find a sense of place.
That is key as Tucson becomes more diverse, said Barbara Eiswerth, director and founder of Iskashitaa, a local non-profit that works with the refugee communities of Tucson.
Her organization helps refugees harvest foods that might otherwise go unused in our community.
"I think that connection to food and the environment is something that American society has gotten away from," Eiswerth said. "And many of the refugee communities that we work with are very much connected."
Eiswerth said Café Desta, aside from serving the community of new residents through employment and friendship, helps Tucsonans by exposing them to the rich cultures of Ethiopia and Eritrea.