The SunZia Southwest Transmission Project is touted by the Bureau of Land Management as necessary to increase the capacity of the electricity grid in the Desert Southwest.
As currently proposed, SunZia would link two power substations in Arizona and New Mexico – more than 500 miles apart - with twin, 500-kilovolt transmission lines.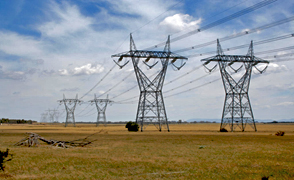 A pair of 500-kilovolt transmission lines in Australia
The Bureau of Land Management released a Final Environmental Impact Study (FEIS) on the project Friday, complete with the agency's preferred route for the lines.
They'd be aligned with existing transmission lines or roadways wherever possible.
According to the FEIS, the proposed route of the SunZia lines take it across 47 miles of the San Pedro River Valley northeast of Tucson.
Some environmental groups are worried the route could harm sensitive wildlife habitat along the river, one of the last free-flowing waterways in the Southwest.
In a statement, Defenders of Wildlife called on the BLM to reconsider its route through the San Pedro.
But the agency says the report comes after a nearly four year process of gathering comments and input on the project route.
The public has 30 days to protest the FEIS.
According to the bureau, SunZia could increase capacity of the region's electric grid by as much as 4,500 megawatts. They also say the project will enable development of wind and solar energy.
SunZia will link the Pinal Central Substation near Coolidge with the proposed SunZia East Substation near Corona, NM, southeast of Albuquerque. The lines will cross federal, state and private land.

More resources:
See the Final Environmental Impact Statement for the SunZia project here

See the Sunzia project map: View at Google Docs | Download File