The fire restrictions begin Wednesday (June 18) and will be in effect until further notice.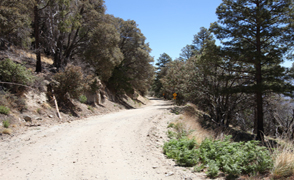 PHOTO: Mark Duggan
Fire restrictions go into effect June 19, 2013 for the Coronado National Forest, including along the Oracle Control Rd. (pictured) on Mt. Lemmon
All campfires and most stoves will be banned, including in developed campgrounds.
Gas-powered stoves will still be allowed.
Also off-limits will be smoking, except in vehicles, and discharging firearms for reasons other than hunting.
The restrictions cover all units of the Coronado National Forest, including Mt. Lemmon and Sabino and Madera Canyons, as well as Chiricahua and Organ Pipe Cactus National Monuments and Fort Bowie National Historic Site.
Forest service officials say violations could bring penalties of up to $5,000 and six months in jail.
Fire restrictions also begin Thursday in parts of northern Arizona. Campfires are being banned in the Arizona Strip region north of the Grand Canyon.
Parts of southern Utah, including Zion and Bryce national parks, are also under fire restrictions.