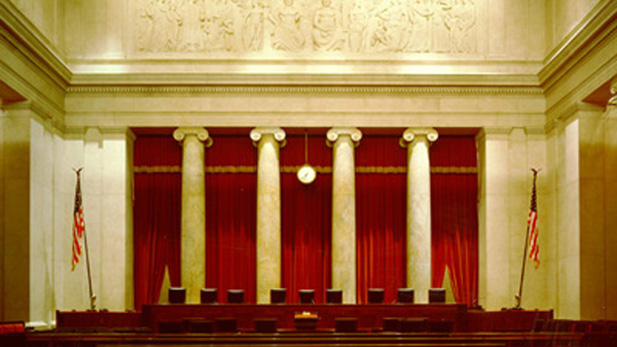 The U.S. Supreme Court in Washington, D.C.
Listen:
The U.S. Supreme Court struck down a key section of the Voting Rights Act Tuesday, freeing Arizona and eight other states from having to submit electoral changes to the federal government.
The court ruled 5-4 that Section 4 of the Voting Rights Act is unconstitutional because its formula is out of date and thus can no longer be used as a basis for subjecting states to preclearance.
In 1965 when the law was passed, the formula was valid, the court's ruling said. The decision was written by Chief Justice John Roberts.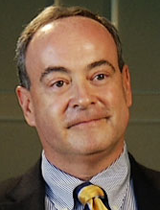 Clint Bolick, vice president for litigation, Goldwater Institute. (PHOTO: AZPM)
Preclearance originally was required for eight Southern states and a smattering of counties elsewhere because of histories of discrimination against African American voters.
Arizona was added as a preclearance state in 1975, with a requirement that it provide Spanish-language voting materials, including ballots, because of the state's high number of Latino voters, said Clint Bolick, vice president for litigation at the Goldwater Institute in Phoenix.
Arizona officials have complained for years that the state does not discriminate in its voting processes and therefore should not be subject to preclearance.
"Arizona really never belonged in this penalty box in the first place, and now 38 years later, it's finally released from this purgatory," Bolick said. Goldwater in 2011 offered to pay the state's legal costs to fight it.
In a statement, Gov. Jan Brewer praised the ruling, saying, "Simply put, decisions that affect states should be left to states. I am grateful to the high court for ruling on the side of sovereignty and federal restraint."
Also in a statement, U.S. Rep. Raúl Grijalva, D-Ariz., criticized the ruling, calling it an invitation to political gridlock.
"Today the majority on the court washed its hands of evidence of discrimination, declared the current remedies invalid, and intentionally left it to a damaged institution to invent a new solution from scratch," Grijalva said in the statement.
The "new solution" to which Grijalva referred would be for Congress to update the formula by which preclearances are screened, something the court said in its ruling is a potential next step. But prospects for that are dim, Grijlava acknowledged.
Last year, Arizona submitted its proposed congressional and legislative redistricting maps to the U.S. Justice Department under the preclearance requirement. They were cleared and went into effect.
Alessandra Soler, executive director, ACLU of Arizona, criticized the ruling, saying "politicians in Arizona continue to manipulate election laws for their own political gain and impair the voting rights of minorities."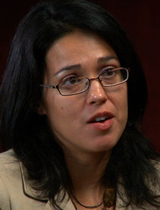 Alessandra Soler, executive director, ACLU of Arizona. (PHOTO: AZPM)
Soler cited Proposition 200, which required Arizonans to prove citizenship to register to vote and which the Supreme Court struck down last week, and a package of election changes that Gov. Jan Brewer signed into law just last week.
Under the Voting Rights Act as it stood before Tuesday's ruling, Arizona presumably would have been required to submit for federal preclearance the newly passed laws that change early-voting procedures, including a purge of early-voting mailing lists.
The Supreme Court's Tuesday decision aligned the court in its conservative vs. liberal factions, with Roberts joined in the majority by Justices Antonin Scalia, Anthony Kennedy, Clarence Thomas and Samuel Alito. In the minority were Justices Ruth Bader Ginsburg, Stephen Breyer, Sonia Sotomayor and Elena Kagan.
"Our decision in no way affects the permanent, nationwide ban on racial discrimination in voting found in (Section) 2," Roberts' decision said.
But Francisco Heredia, national field director in Phoenix for Mi Familia Vota, a voter registration organization aimed at encouraging Latino electoral participation, said it flips the burden of proving discrimination.
"Before this decision, states had to prove that they weren't discriminating against voters," Heredia said. "After this decision, it is pretty much left for groups and individuals to sue for potential discrimination, so it puts the barriers on voters, not the state or the county elections officials."
Section 4 of the Voting Rights Act provides the formula for how preclearance can be achieved, taking into account numerous factors of race and voting patterns. Section 5 of the law applies the formula to decisions on preclearance.
"We issue no holding on (Section) 5 itself, only on the coverage formula," the decision said. "Congress may draft another formula based on current conditions."
Read the court's ruling here.