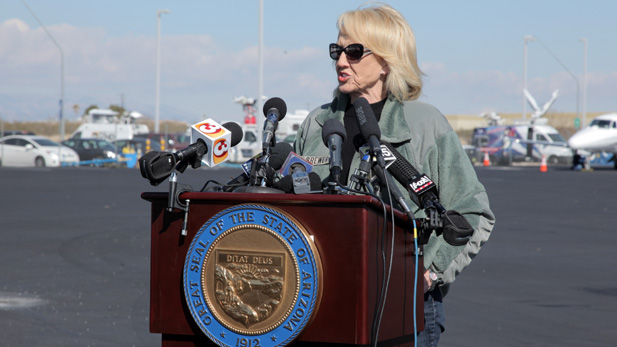 Ariz. Gov. Jan Brewer speaking to reporters in Tucson after a February 2013 tour of the border. (PHOTO: Heather Wodrich)
Arizona Gov. Jan Brewer said Monday she is encouraged by the U.S. Senate's immigration reform bill but won't support it without stronger border security measures.
"Since Arizona is the main recipient of the problems of illegal immigration, let me be clear: My citizens demand a secure border and I demand a secure border. It's as simple as that," Brewer said in a statement released by her office.
She said she neither endorses nor opposes the current legislation, set for a vote as early as this week in the Senate. She said she would count on the House of Representatives to make the bill's border security provisions even stronger.
"Recent additions to the Senate plan are encouraging," Brewer said in her statement. "For example, I have long advocated for additional Border Patrol agents, completion of the border fence and further use of unmanned aircraft and other technology, as well as workplace enforcement."
The bill would add thousands of agents, hundreds more miles of fencing and use of drones and other high-technology devices to secure the border.
"Our nation's immigration system is broken and has been for decades," Brewer's statement said. "Congress must get it right this time. America cannot again repeat the failure of the 1986 immigration reform. The federal government must begin keeping its promises when it comes to border security."
The bill working its way through the Senate is the proposal of a bipartisan group of eight senators, including Arizona Republicans John McCain and Jeff Flake. In her statement, Brewer praised them and called on others in Arizona's congressional delegation to ensure a solid bill when it goes to the House.