June is always hot in Tucson. So far this year, every day in the month has been above 100 degrees. And, it's going to get even hotter.
An area of upper-level high pressure is settling in over the Southwest later this week, meaning temperatures will skyrocket.
Friday and Saturday, highs are expected to be around 112, followed by a "cool down" to 111 on Sunday and 110 on Monday.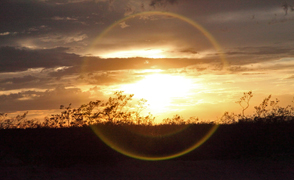 PHOTO: AZPM
Such temperatures aren't uncommon in June. Although, the average high for this time of year is 102, many of the daily records are around 115. It was a June day, the 26th in 1990, that gave Tucson its hottest day ever, 117 at Tucson International Airport.
What makes the looming heat wave unusual is how long it will last. J.J. Brost, of the National Weather Service's Tucson bureau, said if the forecast holds, it will be the third longest streak of such temperatures ever recorded in Tucson.
And, when was the last time Tucson had such a prolonged heat wave?
"You'd have to go back into the mid '90s," Brost said. "This is something we don't necessarily see very often, maybe once every 10 or 15 years."
One potential bright spot about the extreme heat: It encourages the monsoon. Mercury-busting highs are a key ingredient in the complicated climatological mix that brings the summer rains.
Brost said really hot weather acts sort of like a vacuum. As hot air rises, it is replaced by moisture.
And there's plenty of that to the south. All it needs is a little prompting – the vacuum effect – to get it to start heading this way.
Brost said a moist, southeasterly wind flow will set up in the next seven to 10 days, bringing moisture and cooler temperatures.
"That should keep our temperatures down," he said. "And with any luck, we'll start to see the thunderstorms get a little more widespread."