Written by Chris Dashiell

The idea of the media circus is familiar to most of us, I think. With supposedly reputable news organizations now offering wall-to-wall coverage of murder trials, missing persons, celebrity deaths and scandals, it often seems like the news is more circus than substance.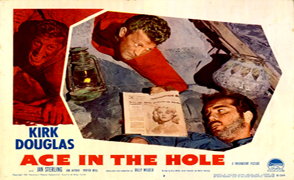 A movie poster for the Billy Wilder film 'Ace In The Hole'
But there was a time when sensationalism was considered out of the ordinary, and one famous filmmaker found out that satirizing it could rub an audience the wrong way.
The film was called Ace in the Hole, and the director was Billy Wilder.
After the completion of his masterpiece Sunset Boulevard in 1950, Billy Wilder parted ways with his long-time co-screenwriter Charles Brackett. It was time for a fresh start.
He teamed up with the writers Lesser Samuels and Walter Newman to make a film which was inspired by the true story of a man trapped in a cave in Kentucky in the 1920s. They were also influenced by a more recent incident in 1949, when a little girl fell down a well in California, and the nation anxiously followed the attempts to rescue her.
The movie they wrote would be shot on location near Gallup, New Mexico, and it was to be Wilder's darkest satire ever. A replica cliff dwelling was built for the film (the trapped man in the story was supposedly looking for Indian relics) which, incidentally, later became a small tourist attraction for the trading post on Route 66 near Gallup.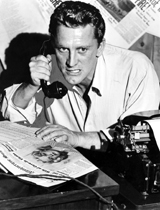 Kirk Douglas plays a cocky, ruthless reporter in Ace In The Hole
The picture in fact offers something of a glimpse into how the Southwest was viewed as a primitive backwater at the time by the big city folks on the coasts. The main character, a reporter, compares New Mexico very unfavorably to the excitement and luxury of New York City.

Kirk Douglas plays the reporter, a cocky, ruthless opportunist named Chuck Tatum, who ends up working for an Albuquerque newspaper after being fired from a major New York daily.
"I can handle big news and little news," he says, "And if there's no news, I'll go out and bite a dog."
Looking to get back up the ladder with a big story, he happens upon a situation in a nearby town where a man is trapped in an Indian cave dwelling, and he milks the emergency for all it´s worth. Soon the whole country is in a frenzy over the trapped man, while Tatum manipulates the situation to his advantage.
He manages to delay the rescue by persuading the engineer responsible for the operation into using an unnecessarily complex drilling strategy that drags things out for days on end while he gets exclusive access to the victim.
He brings the corrupt local sheriff in on the scheme, as well as the victim's wisecracking, amoral wife, played in unforgettable style by Jan Sterling. People start pouring in from all over: tourists visiting out of curiosity, souvenir hunters and other con men of all kinds looking to cash in, publicity hounds and other people who just want to be near something famous.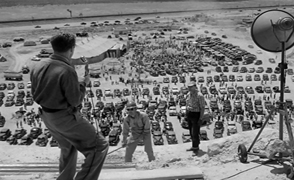 Kirk Douglas, as reporter Chuck Tatum, addresses the crowds who've gathered to watch a man's rescue from a cave
An actual carnival springs up next to the site where the man is trapped, created by The Great S&M Amusement Corporation. That one somehow got by the censors.
Wilder expertly depicts the crazy mob mentality as it escalates out of control, until even the reporter who got it all going starts to have misgivings.
This is one of the few Wilder films, perhaps the only one, with the gritty look of a non-studio shoot. The production values are nonetheless first-rate. Wilder is especially adept at showing us crowds: an overhead shot of a train arriving and unloading a huge batch of tourists, with a country song on the soundtrack, is a real beauty.
However, even to an audience accustomed to Wilder´s acerbic wit, Ace in the Hole was too much. It flopped at the box office—his first commercial failure. Part of the reason might have been that the main character, Tatum, is really just an awful guy. Kirk Douglas was never afraid to play a heel when he was called upon to do so, and he plays it to the hilt here.
Overall, the vision of humanity presented by Wilder is so dark and uncompromising that audiences in 1951 recoiled. The studio tried to salvage the situation by releasing the film again with the title The Big Carnival, but it made no difference.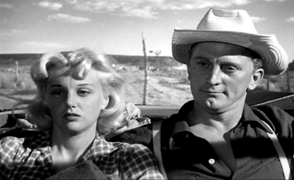 Kirk Douglas and Jan Sterling in the 1951 film 'Ace In The Hole'
It is astounding, and somewhat discouraging, to see how prescient Wilder was about mass culture.
We see now, and take for granted, the media´s generation of a circus-like atmosphere around events that have been largely invented by the very same media.
Even more penetrating was Wilder´s depiction of a public hungry for vicarious identification and excitement, all too willing to buy into the latest manufactured spectacle.
And the dressing up of this idle gullibility with phony 'Americanism' and pseudo-religious 'values' strikes a vulnerable spot even today. In 1951, it must have seemed like a deliberate insult. I'm sure it was no satisfaction for Wilder to know eventually that he was way ahead of his time, but so he was.
To watch Ace in the Hole, which you should do at least once, is to be made uncomfortable. And that´s exactly what was intended.

Audio post-production by Mark Duggan
Who is Chris Dashiell?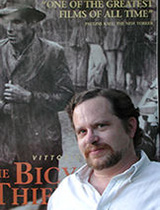 Film reviewer Chris Dashiell
Chris Dashiell has been writing about movies for seventeen years, serving as the editor of the online film lovers' guide Cinescene for ten of them.
He currently reviews films for Flicks, a weekly program on Tucson's community radio station KXCI.
And he confesses to shamelessly idolizing Carl Dreyer, Jean Renoir, and Luchino Visconti.