Story by Laurel Morales

Veterans all over the country are waiting months, and sometimes years, before they see a response to their disability claims. Native American veterans have had an especially difficult time navigating the federal claim system. And they comprise more veterans than any other minority group. Hundreds of veterans salute the American flag as the Color Guard puts it in place at the recent Veterans Benefits Summit in Tuba City, AZ.
Jimmy Yazzie was among them. Yazzie was drafted out of high school from the Navajo Nation to fight in Vietnam for the Marines. He was walking point one night for his squad when he set off a landmine that shattered his ankle. Today at age 60 he still deals with the pain -- both physical and psychological.
"As long as my kids are around me, they keep me happy," Yazzie said. "If my kids go somewhere I go down. I just stay home, don't go no place."
Yazzie drives about 200 miles each month to get from the reservation to the nearest VA hospital. He has received disability benefits over the years but he's still waiting on one claim he filed over a year ago.
"All they kept telling me is that it's being processed, it's being processed," Yazzie said. "You just have to wait, be patient."
Thousands of veterans are running out of patience. Some have waited years to receive compensation benefits that could add up to $3,100 a month. And currently more than 800,000 claims are pending. American Indian veterans have become discouraged for several additional reasons like the language barrier and complicated applications.
Rick Gray is the commander of the Kayenta Veterans Association but he still has had trouble understanding the VA system. He filed a claim two years ago.
"They tell me you need to get a VA representative," Gray said. "So I ask them, where do I get that VA representative? They look at me like I'm stupid. 'Why are you doing this by yourself? We have all of this available for you.' Well, tell me where to go."
Gray came to Tuba City to get answers.
"I feel it's still a lot of lip service," Gray said. "It's hard for us to swallow and hard for us to get anywhere, especially if we're doing it on our own."
The VA's Tommy Sowers flew in from Washington, D.C. for the summit. He said the VA is in the process of converting tens of millions of documents into electronic files and will be completely computerized by the end of the year.
"We prioritize claims in a lot of different ways, whether you're homeless or have special needs," Sowers said. "Now we're prioritizing claims on how old they are, the oldest claims first."
The VA has recently seen a surge of applications because the Obama administration has allowed vets to file claims for Agent Orange, Gulf War Syndrome and Traumatic Stress. So Sowers said the VA has hired more employees to deal with the backlog.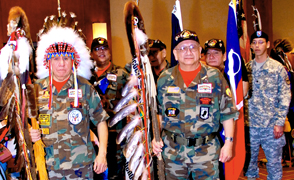 Native Americans serve at higher rates in the U.S. Armed Forces than any other group and have served in all of the nation's wars since the Revolutionary War (PHOTO: Vincent Schilling)
Many veterans approached Sowers at the summit asking why there aren't more services or even a VA hospital on the Navajo Nation, a reservation the size of West Virginia.
"Look there are places that you can't justify building a new hospital or facility at," Sowers said. "So we want to bring care to where veteran is and we do that a lot of ways whether it's mobile vet centers, whether it's partnerships with the Indian Health Service."
One of the mobile vans that provides readjustment counseling for vets is parked outside the meeting. Emmarie Sheppard drives it all over the Navajo and Hopi reservations.
"We're kind of like a driving billboard so people see the Department of Veteran Affairs, so people come to us about everything," Sheppard said. "We get questions about VA home loans, housing because we're pretty much the only ones out here."
Even Navajo vets from powerful families are having trouble accessing veterans services. Navajo President Ben Shelly has two veteran sons living at home because they are caught up in veteran housing red tape. Shelly said the federal office is only partially to blame.
"Maybe we're not organized here on the reservation more," Shelly said. "Whatever help they want it should be under one roof. When he walks out he gets what he needs, instead of getting the runaround to go here and there and there and there."
Shelly said the tribe is working on turning an old hospital in Gallup into such a facility. In the meantime he's worried about veterans' high rates of alcoholism, homelessness and suicide.