A new interstate highway to bypass Tucson on the south and west sides, providing easier passage of commercial truck traffic from Mexico, has been proposed by officials of Pima County government.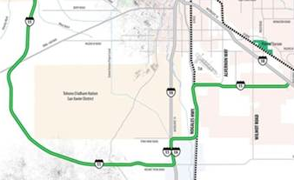 PHOTO: Pima County
Proposed I-11 bypass west of Tucson.
A Pima County portion of the proposed Interstate 11 would connect to I-19 south of the city at Sahuarita Road and I-10 to the northwest at the Pima-Pinal county line, a distance of 56 miles, according to county documents and a press release.
State officials have begun planning work on an I-11 corridor that would link Phoenix and Las Vegas as Arizona's part of a Mexico-to-Canada connection to encourage trade and inter-country economic development.
The Pima County idea is to extend I-11 farther south, crossing mostly vacant state trust land west and northwest of Tucson.
Additionally, it would connect to the county's planned Sonoran Parkway, which would extend from I-19 south of Tucson to the east, connecting with I-10 to the southeast of the city.
County officials sent the idea to the Pima Association of Governments this week to be considered as part of long-range transportation planning needs in the region.
"Funding sources have yet to be identified, but will require federal, state and local resources, with the lion's share coming from federal and state sources," the press release said.