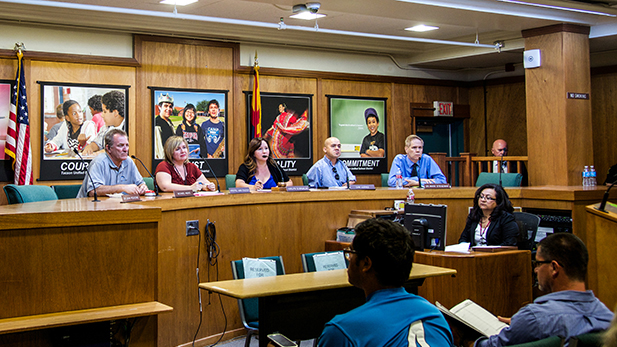 Tucson Unified School District's Governing Board. From left to right, Michael Hicks, Kristel Ann Foster, President Adelita Grijalva, Cam Juárez, Dr. Mark Stegeman. (PHOTO: Yoohyun Natividad)
Tucson Unified School District's governing board approved a $576 million budget for the 2013-2014 academic year that calls for 11 percent less spending than last year.
The proposed budget was drafted before state lawmakers finalized a state budget which gives TUSD an additional $4 million, said Yousef Awwad, the district's chief financial officer.
H.T. Sanchez, TUSD's new superintendent, asked board members to use $1 million from that surplus to raise the salaries of some veteran teachers in the district.
The board approved that spending, as well as using $500,000 from those state funds to restore evening custodial jobs and maintenance equipment.
This was the first time members of the public addressed Sanchez directly at a board meeting. Many, including union leaders, welcomed the 38-year-old Texas native, and showed their support, while also cautioning Sanchez about the many issues TUSD faces.
Sanchez said he plans to hire an outside firm to conduct a financial audit of the district in the coming months.
On a vote of 3-2 the board approved curriculum for high school elective courses that teach literature through Mexican American and African American perspectives.
The curriculum was developed by dozens of experts from more than 20 universities across the United States, officials said.
The Arizona Department of Education reviewed the curriculum to ensure it complies with the state law previously used to shut down.
The list of books for the culturally relevant classes has not been finalized.