Construction has been completed on a new federal courthouse in downtown Yuma that is named after the judge who was killed in the Tucson shooting rampage.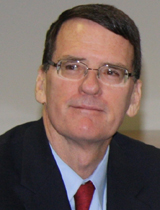 PHOTO: Courtesy Giffords' office
U.S. District Judge John Roll.
The Yuma Sun reports that a grand opening ceremony for the John M. Roll U.S. Courthouse is being planned for the fall.
Roll was among six people killed in the shooting Jan. 8, 2011. Then-U.S. Rep. Gabrielle Giffords and 12 others were wounded in the attack at Giffords' meeting with constituents outside a Tucson supermarket.
Roll, as chief federal judge in Arizona, had stopped at the Giffords event to thank her for listening to his plea for more resources for the state's overwhelmed federal courts.
He had signed off on the design of new courthouse days before his death, a project he considered his top priority for several years.
The $25 million courthouse will include two courtrooms, judges' chambers, detention cells and other court-related offices.